Il carcere di Litchfield sta per riaprire i battenti. La quinta stagione di Orange Is The New Black tornerà su Netflix il 9 Giugno. Abbiamo ancora un po' di tempo prima di incontrare di nuovo le nostre detenute, ma già nel web girano potenziali spoiler riguardanti la puntata che darà il via alla nuova stagione.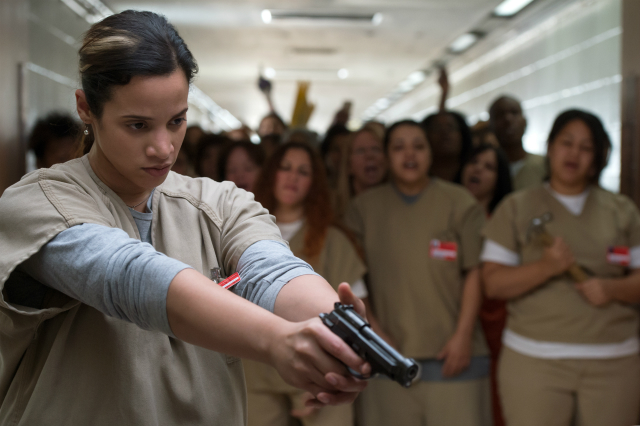 Come vi ricorderete la quarta stagione di Orange Is The New Black si è conclusa con un clamoroso cliffhanger. Lo svolgimento delle prossime puntate dipenderà dalla decisione che prenderà Daya: premerà o no il grilletto?
Questo non lo sappiamo e lo scopriremo solo il 9 Giugno. Ma su internet è apparsa una foto pubblicata su Twitter da una ragazza che ha visitato il Kaufman Astoria Studios di New York, luogo in cui sono state girate delle scene della quinta stagione.
La foto tweettata riguardava il "Daily Call Sheet" del quarto giorno di riprese, che per gli addetti ai lavori è il programma con tutto lo svolgimento della giornata lavorativa. Dalla foto si leggeva questa scaletta che riguardava la prima puntata della quinta stagione dal titolo "Riot FOMO":
[Scena] Corridoio fuori dalla lavanderia: Alex e Piper sentono dei colpi di pistola.

[Scena] Ufficio di Piscatella: Red e Ginsberg mettono a soqquadro l'ufficio di Piscatella.

[Scena] Bagno delle signore riservato al personale: Alex e Piper si imbattono in Linda, addetta dell'ufficio acquisti del carcere, nel bagno riservato al personale.

[Scena] Corridoio: Dwight si chiude la porta in faccia e si rompe il naso.

[Scena] Corridoio del seminterrato: Alex, Piper e Linda corrono verso l'uscita ma scoprono che la porta è bloccata.

[Scena] Ufficio di Piscatella: Red e Ginsberg vengono interrotte da Daya.
La foto è stata, purtroppo, rimossa dal profilo della misteriosa ragazza. Ovviamente non si sa se questa foto sia un grande fake o sia attendibile. Per maggiori info rimandiamo al 9 giugno con la premiere di Orange Is The New Black.