# #
Danielle Brooks, interprete di Tasha "Taystee" Jefferson, racconta in un' intervista per Entertainment Weekly del suo potenziale futuro nella Serie Orange Is the New Black.
# #
Orange Is the New Black è ormai un successo dichiarato. La quarta stagione dello show ha forse fatto storcere il naso ai fan per il suo inizio lento e più sotto tono di quello a cui eravamo abituati, ma è indubbio che la stagione sia andata crescendo e che il finale sia stato incredibilmente emozionante. Ci ha tenuti con il fiato sospeso per un anno intero, a chiederci cosa ne sarebbe stato delle detenute del carcere di Litchfield, se quel colpo era stato sparato.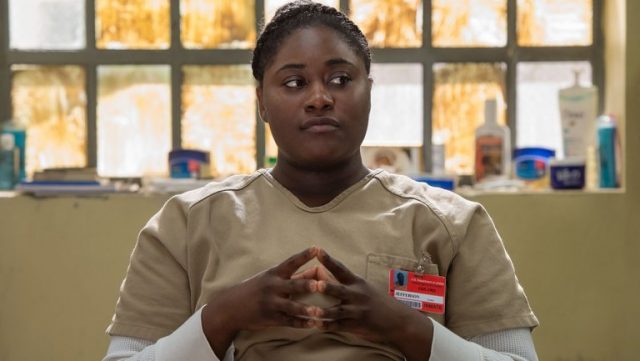 # #
[ALLERTA SPOILER 4 E 5 STAGIONE]
La quinta stagione di Orange Is the New Black è interamente uscita sulla piattaforma Netflix da meno di due settimane ma già da tempo sapevamo del suo rinnovo per altre due stagioni. In quest'ultima è stato particolarmente centrale il personaggio di Taystee, che abbiamo visto intenta a chiedere giustizia per la morte della sua amica Poussey. Costretta suo malgrado a gestire le trattative in corso dopo la rivolta nel carcere di Litchfield, si è ritrovata a rappresentare tutte le detenute nel confronto finale con il Governo degli Stati Uniti.
Durante un' intervista per EW Danielle Brooks ha però ammesso che non sa cosa deciderà di fare in futuro:
Arriveremo sicuramente alla settima stagione. Onestamente, non so se andrei oltre. Non lo so principalmente perché sento di avere molto da dare e vorrei portare alla luce un gran numero di personaggi diversi. Dopo la settima stagione potrei anche decidere di spiccare il volo, ma per il momento è meglio non dire nulla di definitivo
La sorte di Taystee in Orange Is The New Black è comunque sconosciuta e non sappiamo quali sviluppi potrebbe avere la sua storia nella sesta stagione.
Chi si è già divorato la quarta stagione di Orange Is the New Black dovrà presumibilmente aspettare un anno per i nuovi episodi, per tutti gli altri buona visione!