# #
Per i fan di Once Upon a Time, oggi è arrivata una bruttissima notizia. Come un fulmine a ciel sereno, Jennifer Morrison, l'attrice protagonista dello show, in onda dal 2011 sulla ABC, ha pubblicato sul proprio account Instagram una foto accompagnata da un lungo ringraziamento e da un commovente addio alla Serie.
# #
Jennifer Morrison, che interpreta Emma Swan, lascia ufficialmente Once Upon a Time.
Ma non per sempre. L'attrice ha dichiarato, infatti, di essere a disposizione per un breve ritorno o per un eventuale cameo, nella settima stagione (sempre che venga rinnovata!) e sarà presente alle convention e ai panel.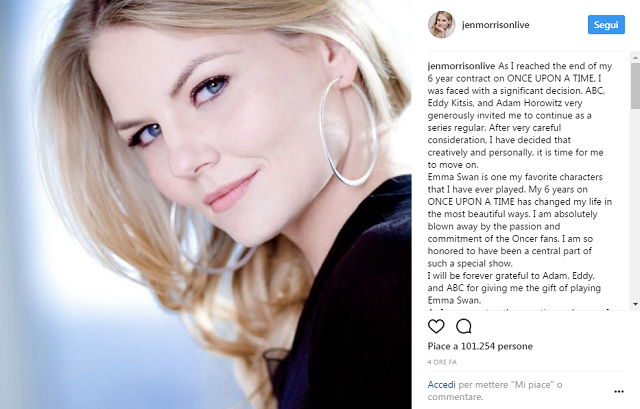 # #
Ecco quello che l'attrice ha scritto su Instagram:
"As I reached the end of my 6 year contract on ONCE UPON A TIME, I was faced with a significant decision. ABC, Eddy Kitsis, and Adam Horowitz very generously invited me to continue as a series regular. After very careful consideration, I have decided that creatively and personally, it is time for me to move on.
Emma Swan is one my favorite characters that I have ever played. My 6 years on ONCE UPON A TIME has changed my life in the most beautiful ways. I am absolutely blown away by the passion and commitment of the Oncer fans. I am so honored to have been a central part of such a special show. I will be forever grateful to Adam, Eddy, and ABC for giving me the gift of playing Emma Swan.
As I move on to other creative endeavors, I will continue to attend the fan conventions whenever my professional schedule allows. I always look forward meeting the fans. If ABC Network does in fact order a season 7, I have agreed to appear in one episode, and I will most certainly continue to watch ONCE UPON A TIME. The creativity of the show runners has always inspired me, and I cannot wait to see the ways that they continue to develop and reinvent the show. #Onceuponatime #EmmaSwan #UglyDucklings".
Traduzione:
"Quando ho raggiunto la fine dei sei anni previsti dal contratto di Once Upon A Time, mi sono trovata davanti a una decisione importante. ABC, Eddy Kitsis e Adam Horowitz mi hanno generosamente invitato ad andare avanti come personaggio principale della Serie ma dopo un'attenta considerazione, ho deciso che, creativamente e personalmente, è giunto il momento per me di prendere altre strade.
Emma Swan è uno dei personaggi che più ho amato interpretare e i miei 6 anni in Once Upon A Time hanno cambiato la mia vita nei modi più belli. Sono rimasta molto sorpresa dalla passione e dall'impegno con i quali i fan seguono la Serie e sono davvero onorata di essere stata una parte centrale di un uno show così speciale. Sarò sempre grata ad Adam, Eddy e ABC per avermi dato l'opportunità di interpretare Emma Swan. Nonostante abbia deciso di andare avanti e buttarmi in altri progetti, continuerò a partecipare alle convention dei fan ogni volta che i miei impegni lo permetteranno.
Non vedo l'ora di incontrare i fan. Se la ABC confermerà una settima stagione per la Serie, ho già accettato di apparire in un episodio, e certamente continuerò a guardare ONCE UPON A TIME, visto che la creatività degli showrunners mi ha sempre ispirata e non vedo l'ora di vedere i modi in cui lo show possa continuare e reinventarsi".
Gli showrunners della Serie, Eddy Kitsis e Adam Horowitz, molto probabilmente già al corrente della decisione della Morrison, hanno dichiarato qualche giorno fa che, nell'eventuale settima stagione, i protagonisti e le storie sarebbero stati completamente diversi da quelli delle precedenti season.
La bella Jennifer non è l'unica a voler abbandonare la nave. Pare che altri due membri del cast vogliano lasciare la Serie. Josh Dallas (il Principe Azzurro) e Ginnifer Goodwin (Biancaneve) si sono chiamati fuori dalla settima stagione.
Che cosa accadrà adesso?