Dopo più di un anno d'attesa (negli USA è andata in onda per la prima volta nel febbraio 2015) la miniserie The Slap verrà trasmessa doppiata su un canale italiano!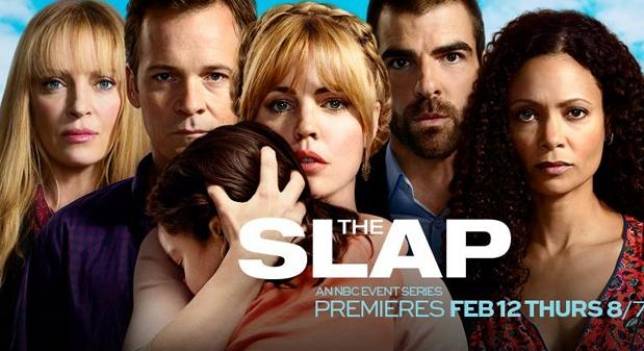 The Slap è il remake americano targato NBC di una serie omonima girata in Australia nel 2011, a sua volta tratta dal bestseller dello scrittore australiano Christos Tsiolkas (pubblicato in Italia da Neri Pozza con il titolo "Lo schiaffo").
Il primo episodio descrive una tranquilla cena in giardino organizzata da Aisha Apostolou (interpretata da Thandie Newton)  per festeggiare il quarantesimo compleanno del marito, Hector, a cui partecipano un gran numero di parenti, amici e colleghi della coppia; gli invitati, tutti di origini e religioni diverse, sono espressione della multiculturale e (almeno in apparenza) tollerante società americana.
La serenità della festa viene improvvisamente spazzata via dallo schiaffo dato dal venditore di auto Harry, cugino del festeggiato, al figlio iperattivo e incontrollabile di una coppia di invitati, Hugo, per punire il suo comportamento irrispettoso nei confronti degli adulti.
Questo piccolo incidente degenera prima in una lite violenta e poi in una causa giudiziaria per maltrattamento di minore; la serie descrive la personale visione della vicenda dei singoli personaggi, svelando le spesso inconciliabili differenze culturali che esistono tra persone di diversa origine, in un primo momento solo nel campo dell'educazione dei figli, poi in ogni altro aspetto della vita.
La versione americana di The Slap ha un cast di primissimo piano: l' attore (che ha interpretato Spock nella nuova trilogia di Star Trek e Gabriel "Sylar" Gray in Heroes) e produttore Zachary Quinto è Harry, l'autore dello schiaffo che dà il via alla storia; Peter Sarsgaard, apparso in Rendition-Detenzione illegale e Lanterna Verde, interpreta il protagonista maschile, Hector; Uma Thurman (che è entrata nel cast in sostituzione di Mary-Louise Parker, la Nancy Botwin di Weeds) interpreta Anouk Lathman, la migliore amica di Hector.
Il primo degli otto episodi di The Slap sarà trasmesso il 23 settembre su Premium Stories, su Mediaset Premium.