# #
Robert Kirkman, creatore del fumetto The Walking Dead e co-produttore dell'omonima serie tv, in una recente intervista per Rolling Stones ha parlato del finale della sesta stagione di The Walking Dead e della nuova serie Outcast, ispirata anche questa dal fumetto di Kirkman. Durante l'intervista, Robert ha affermato di avere già un'idea sul finale del fumetto (che non arriverà per ora comunque), e che non lo svelerebbe mai agli altri produttori della serie, facendo riferimento a George R.R. Martin che, come sappiamo, ha svelato agli showrunners della serie Game Of Thrones alcuni punti importanti del suo prossimo libro delle Cronache del Ghiaccio e del Fuoco "The Winds Of Winter", non ancora pubblicato.
# #
Kirkman ha affermato <<Io non l'avrei mai fatto. È l'unica cosa su cui George R.R. Martin mi ha deluso. Avrebbe dovuto dire "Fottetevi. Ora inventate qualcosa voi, io ci arriverò quando sarò pronto">>.
Questa confessione ha fatto il giro del web in pochissimo tempo, dove molti addirittura si sono schierati a favore di uno o dell'altro (in stile Civil War per intenderci).
Ma Kirkman non ha perso tempo e, rendendosi conto del suo errore, ha fatto dei tweet di scuse.
Nel primo ci scherza su, e con una gif scrive: "Come George R.R. Martin avrebbe risposto se davvero avessi avuto intenzione di essere critico con lui" .

Pochi minuti dopo, arriva il secondo tweet dove dice: "Deluso probabilmente è la parola sbagliata. Stavo solo scherzando su come avrei gestito io la situazione. Amo GOT. Amo GRRM"
# #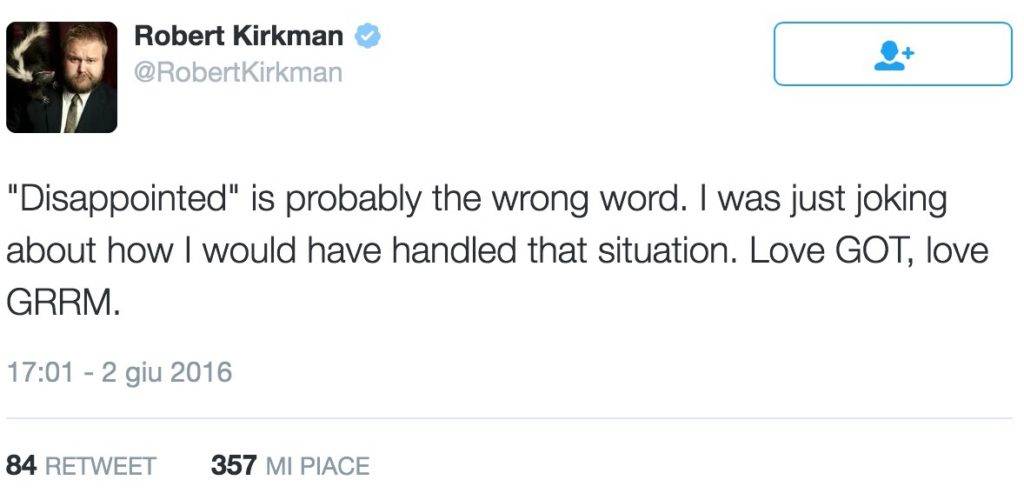 E aggiunge ancora:"George R.R. Martin è uno scrittore migliore di quanto io non sarò mai. Amo la nuova stagione di Game Of Thrones. È il mio show preferito in tv!"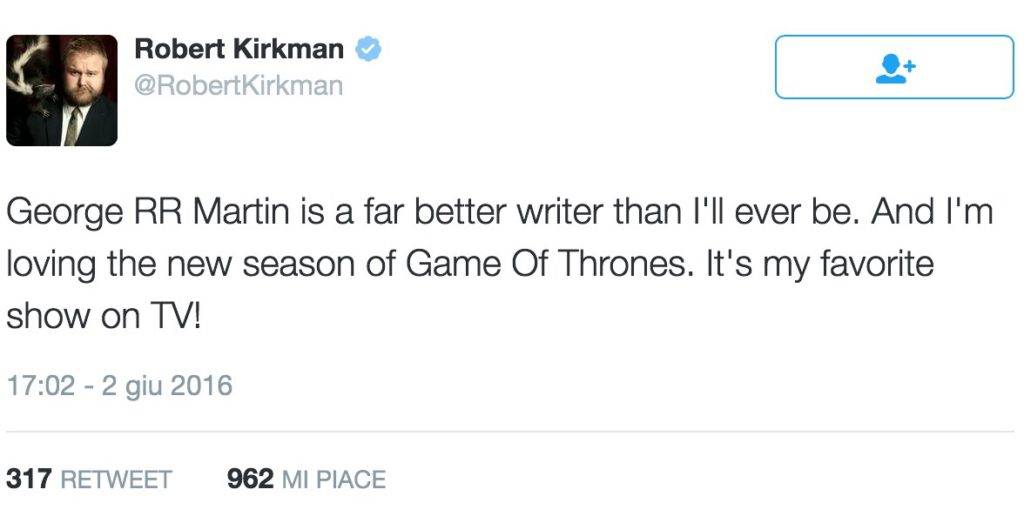 La sua intenzione era davvero quella di scherzare o voleva criticare il comportamento di Martin? Noi crediamo alla sua versione. D'altronde un uomo amante dell'horror, di zombie, sangue e terrore non può essere una persona cattiva, no?