Da poche ore è stato diffuso il video in cui un sicurissimo e spavaldo Kevin Spacey nelle vesti di Frank Underwood annunciava un suo presunto glorioso ritorno, alludendo al fatto che la sua morte non sia mai avvenuta "on screen", e che appunto nessuno lo abbia mai visto morire.
Ebbene, che si creda o meno alle accuse poste nei suoi confronti, l'annuncio ha inevitabilmente sorpreso ed esaltato tutti, per ciò che il personaggio della serie House of Cards rappresenta.
Eppure il fervore del video pubblicato da Kevin Spacey (intitolato "Let me be Frank", sagace gioco di parole che sta per "Lasciatemi essere franco/Lasciatemi essere Frank") è stato subito smorzato dall'ennesimo colpo di scena in una storia che si è ormai trasformata in incubo, per il celebre attore di Hollywood e per i suoi più affezionati fan.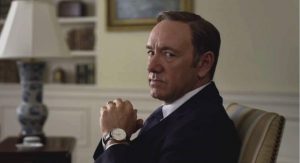 Nel Novembre 2017 sono partite le indagini in merito all'accusa di aggressione sessuale in un bar da parte di Kevin Spacey nei confronti di un adolescente di 16 anni, presumibilmente avvenuta nel Luglio 2016 in Massachusetts.
Soltanto a qualche ora dall'uscita del suo primo video su canali ufficiali (Twitter in questo caso) dopo oltre un anno, l'accusa è divenuta formale: l'attore americano Kevin Spacey, 59 anni, sarà infatti accusato formalmente di aggressione sessuale. Lo scrive il quotidiano Boston Globe, che cita il procuratore dell'isola di Nantucket, dove sarebbero avvenuti i fatti.
La quasi contemporaneità della notizia formale con la pubblicazione del video sopracitato ha fatto riflettere: l'attore ha sempre protetto maniacalmente la propria privacy, anche nei momenti di maggiore esposizione mediatica positiva (i due Oscar vinti e l'amicizia con Clinton, ad esempio) che avevano fatto crescere esponenzialmente i numeri dei suoi canali social.
È stato inevitabile pensare, dunque, che le due uscite pubbliche abbiano qualche legame.
Una cosa è certa: avevamo davvero bisogno che Kevin Spacey si esponesse, e l'ha fatto alla sua maniera. Tornando a essere "franco".
LEGGI ANCHE – Kevin Spacey è tornato nei panni di Frank Underwood: «Vi sono mancato?»