Più Rosario Dawson per tutti! E' stato annunciato dal sito Deadline che l'attrice è entrata ufficialmente nel cast della Serie Tv, Jane the Virgin.
Ma per quanto tempo? E quale sarà la sua funzione nello Show?
Paul Hewitt, rappresentate dell'emittente televisiva The CW, ha semplicemente fornito l'informazione, aggiungendo che ulteriori dettagli verranno forniti nelle prossime settimane.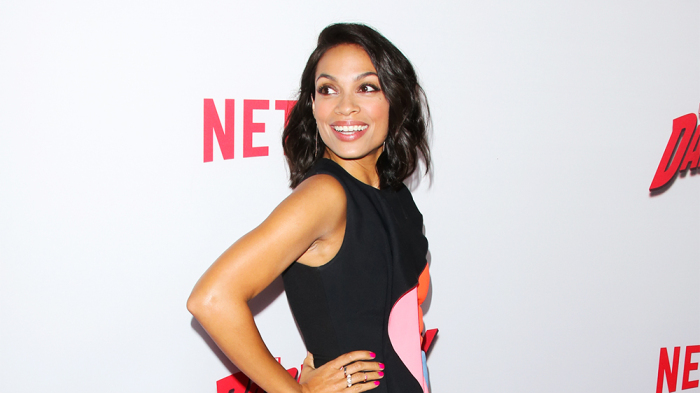 L'attrice è stata molto presente ultimamente sul piccolo schermo, a partire dalla prima stagione di Daredevil e, per finire in The Defenders, passando per tutte le Serie Tv dell'ormai celebre collaborazione fra Netflix e Marvel, grazie al ruolo dell'infermiera Claire Temple.
Inoltre, lo scorso novembre, la Dawson ha firmato un contratto che la vedrà produttrice esecutiva e narratrice nel prossimo documentario The Need to Grow, che riguarderà l'importanza dei terreni fertili. Infatti è risaputo che l'attrice porti avanti battaglie che riguardano non solo l'ambiente, ma anche l'uguaglianza.
La Serie Televisiva Jane the Virgin ritornerà il 26 di gennaio, con i suoi ultimi dieci episodi e la puntata finale (segnatela sul calendario) andrà in onda il 13 aprile. Al suo ritorno, lo Show avrà da chiudere molti capitoli lasciati a metà prima delle vacanze natalizie. Una delle grandi domande che si sono posti i fan è, Jane (Gina Rodriguez) e Rafael (Justin Boldoni) torneranno assieme, dopo quel bacio passionale? Ovviamente, gli appassionati della Serie sanno che tutto è possibile, anche che i loro desideri non vengano realizzati.
Ad ogni modo, l'unica informazione che l'emittente The CW è riuscita a svelare riguardo il ruolo che ricoprirà l'attrice, è che sarà presente molto probabilmente per quattro episodi. Oltre tutto, la Dawson si vedrà protagonista di un arco narrativo particolarmente interessante.
Insomma, per l'attrice si prospetta un ricco anno lavorativo.
E voi siete pronti a vederla in Jane the Virgin? Ma, soprattutto, siete pronti al ritorno della Serie Tv?