La decima stagione di The Big Bang Theory si è recentemente conclusa ma la Serie Comedy più vista della Tv, targata CBS, è stata rinnovata per altre due stagioni.
Non è stato un rinnovo semplice quello di The Big Bang Theory a causa della diatriba fra la produzione e due delle protagoniste dello show, Mayim Bialik (Amy Farrah Fowler) e Melissa Rauch (Bernadette Rostenkowski). Le due star pretendevano infatti un sostanzioso aumento di stipendio per arrivare ad un compenso pari a quello dei colleghi che fino a ora percepiscono un milione di dollari a episodio. A differenza della Bialik e della Raunch che ne riscuotono 200 mila. La produzione non voleva cedere il punto e le due attrici hanno seriamente rischiato di non partecipare alle stagioni 11 e 12. Fortunatamente un accordo è stato trovato, grazie anche al sostegno dei colleghi Jim Parsons (Sheldon), Kaley Cuoco (Penny), Johnny Galecki (Leonard), Simon Helberg (Howard) e Kunal Nayyar (Raj) che hanno acconsentito a un taglio dello stipendio di 100,000 dollari ciascuno per favorire il raggiungimento di un accordo tra la CBS e le colleghe.
Ma i dubbi sul futuro della Serie non sono finiti qui. Se Jim Parsons aveva timore che la decima stagione di The Big Bang Theory fosse l'ultima,("So che tutti vogliono andare avanti. Quindi sarei scioccato se ciò non accadesse. Lo sarei davvero" – ha dichiarato in un'intervista) il creatore Chuck Lorre ha recentemente dichiarato che con la conclusione della dodicesima stagione il viaggio dei nerd più amati del piccolo schermo potrebbe realisticamente concludersi. Ha infatti dichiarato a The Hollywood Reporter:
Non avremmo mai pensato di arrivare all'undicesimo anno, senza pensare cosa accadrà dopo il dodicesimo. Potremmo facilmente immaginare che sarà la fine della serie, ma è stato comunque incredibile essere arrivati fin qui.
Allo stesso tempo il presidente della CBS, Kelly Kahl, non è ancora pronto a rinunciare alla sua gallina dalle uova d'oro e durante un'intervista ha rivelato:
Continueremo finché possiamo, anche 20 anni. Spero di averlo ancora finché c'è.
Alcune voci rivelerebbero infatti che la CBS e gli autori vogliono dare una nuova passata di smalto a una Serie che sta perdendo di freschezza e originalità, con l'introduzione di nuovi personaggi.
L'idea è nata a partire dall' episodio 23 della decima stagione, Il collasso del giroscopio, in cui Leonard, Sheldon e Howard si imbattono in un appartamento vuoto al piano inferiore al loro, innescando così speculazioni sul possibile trasferimento di nuovi vicini. A quanto pare, però, tutte queste speculazioni nascerebbero da una semplice scelta strategica, come afferma il produttore Steve Molaro:
Onestamente ho introdotto l'appartamento vuoto per giocare sul fatto che, poco prima, Leonard, Sheldon ed Howard si erano ritrovati il loro laboratorio svuotato dall'esercito e quindi, senza svuotare il set originale, ne abbiamo costruito uno simile (ma vuoto) ad hoc.
Nonostante la smentita in molti vorrebbero la produzione intenta a sfruttare i set vuoti per dei nuovi personaggi.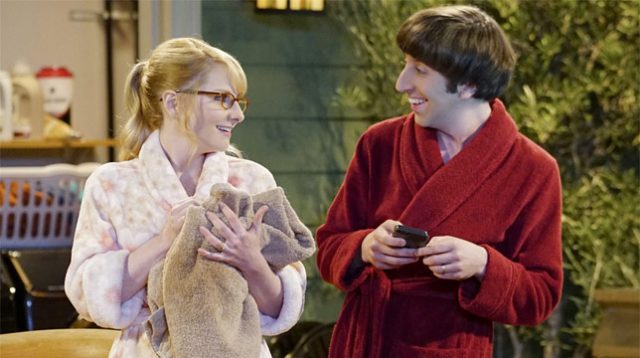 Qualcuno che sicuramente non vedremo nelle future stagioni di The Big Bang Theory è la nuova arrivata del gruppo, Halley Wollowitz (il cui nome deriva dall'omonima cometa), che prenderà le veci della scomparsa Signora Wollowitz, di cui abbiamo sempre sentito la possente voce ma mai ne abbiamo visto il volto.
Questo autunno porterà sicuramente cambiamenti nella grande famiglia di Big Bang Theory che, oltre alla nuova stagione (speriamo) fresca di novità, vedrà anche il debutto,il 2 novembre, del nuovo show Young Sheldon incentrato sull'infanzia del genio più amato/detestato del piccolo schermo.