# #
L'Italia, nazione dalla lunga storia che percorre i secoli, ha tanto da offrire nel panorama di serie televisive di contenuto storico e potrebbe decisamente muoversi in questa direzione. Un passo è stato compiuto con la co-produzione de I Medici, altresì conosciuta come Medici: Masters of Florence, una serie a breve in onda sulla RAI.
# #
Protagonista de I Medici è, appunto, la famiglia Medici, signori di Firenze, i quali hanno avuto un ruolo fondamentale nella storia della città e della penisola italica promuovendo per generazioni la vita artistica, culturale, spirituale e scientifica del Rinascimento, passando da semplici mercanti a ricchi finanzieri e mecenati con una grande influenza nella vita e nella cultura dell'epoca. La serie TV si focalizzerà sull'ascesa di Giovanni de' Medici e del figlio Cosimo, il quale dovrà destreggiarsi tra intrighi, affari e nemici in seguito all'omicidio del genitore.
A portare la vita di questa grande famiglia sul piccolo schermo saranno gli scrittori Frank Spotnitz (creatore di un'altra recente serie di gran livello, The Man in the High Castle) e Nicholas Meyer (coinvolto nella creazione di due film della saga di Star Trek). Il progetto è una coproduzione internazionale firmata Lux Vide dei fratelli Bernabei e Big Light Productions di Spotnitz in collaborazione con Rai Fiction, mentre la Wild Bunch si occuperà della distribuzione internazionale. Gli otto episodi che compongono la serie andranno in onda in autunno su RAI Uno, sebbene non sia ancora stata annunciata una data ufficiale, e una seconda stagione è già stata annunciata. Le riprese sono state effettuate in lingua inglese nei luoghi della Toscana e del Lazio; dirette dal regista Sergio Mimica-Gezzan e durate sei mesi, hanno coinvolto un centinaio di attori, migliaia di comparse, 400 cavalli e 7000 costumi.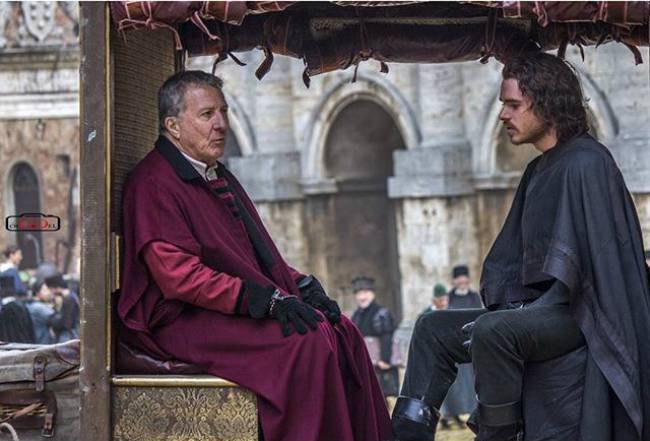 Tra i nomi del cast spiccano quelli di Dustin Hoffman, celebre attore dalla lunga carriera, nei panni del patriarca Giovanni de' Medici e di Richard Madden, noto per il ruolo di Robb Stark in Game of Thrones, che interpreterà il figlio Cosimo. Alle riprese hanno partecipato anche attori italiani, quali Sara Felberbaum, Miriam Leone, Guido Caprino, Valentina Bellè, Alessandro Sperduti, Tommaso Ragno, Eugenio Franceschini, Fortunato Cerlino (ovvero don Pietro Savastano in Gomorra) e Alessandro Preziosi (nel ruolo di Brunelleschi).
# #
Dalle premesse I Medici risulta essere un progetto ambizioso, ma anche un buon inizio per un'apertura italiana al panorama internazionale delle serie televisive.