Non possiamo dire che la premier di How To Get Away With Murder ci abbia lasciati scontenti. In pieno stile Shonda Rhimes, così come ci ha abituati con la Serie Tv. Tutto si svolge dopo un salto temporale di tre settimane e nel corso della stagione dobbiamo capire (o meglio cercare di capire) cosa è realmente accaduto nella realtà. La protagonista del nostro salto temporale è Laurel. Quello che stiamo per dirvi riguarda il primo episodio della quarta stagione di How To Get Away With Murder, ragion per cui ricco di spoiler! Procedete con cautela.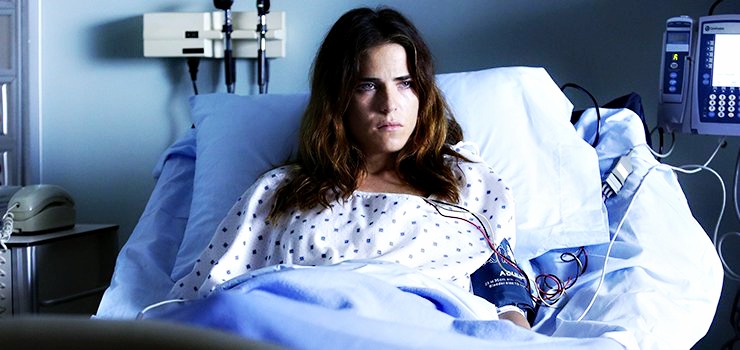 Il dramma ABC è tornato per la sua quarta stagione il giovedì, e tra le tante domande che ci hanno lasciato dopo l'episodio, una su tutte ci rimbomba nella testa: Dov'è il bambino di Laurel?
Laurel è una Meredith Grey che non ci ha creduto abbastanza. E' la nuova vittima di Shonda. La Castillo durante la scorsa stagione ha dovuto affrontare molte prove, diciamo che "l'anno" che ha vissuto non è uno dei migliori. Lei sa che il padre è responsabile della morte di Wes. Decide, infatti, di tacere sulla gravidanze e racconta al padre di aver abortito. TvLine ha intervistato Karla Souza riguardo la decisione di Laurel e come gli showrunner le hanno fatto sapere la notizia. Vediamo un po' cosa ha detto l'attrice:
Oh mio Dio. Sono rimasta estremamente sconvolta. Pete Nowalk mi ha chiamata nel suo ufficio e insieme a Jet Wilkinson mi ha fatto sapere quale sarebbe stato il cliffhanger. Io sospirando, ho continuato a pensare "povera donna, ha aspettato tanto per mesi il suo bambino poi si sveglia improvvisamente e non c'è?". Pete l'ha voluto condividere con me, ed io sono molto grata di questo perché normalmente non lo fa. Saperlo mi ha aiutato a preparare bene le scene successive. Laurel sta facendo questo per vendicare Wes. No, non so cosa succederà dopo.
Verso la fine, vediamo Laurel scrivere un messaggio di risposta al padre. Avrebbe voluto scrivere "Perché hai ucciso Wes?" ma poi ha cancellato il messaggio. Durante l'intervista Karla Souza parla anche di questo:
Laurel ha un sospetto molto grande, perché non appena vede Dominic ricorda qualcosa. Noi non sappiamo a che punto della sua vita sia apparso prima il fratello, ma era sempre quando suo padre era coinvolto in tutto quello che stava facendo. Si scoprirà il perché andando avanti con la storia. Ma è quasi certa che sia per via del padre.
Non vediamo l'ora di vedere come proseguirà questa quarta stagione di How To Get Away With Murder.