# #
Siamo pronti per tornare nella vita politica americana. Gli Underwood torneranno con House of Cards su Netflix nella quinta stagione della serie.
# #
House of Cards, la serie che tratta di potere, manipolazione e intrighi nella politica statunitense, tornerà il 30 maggio 2017 sul servizio streaming Netflix. In Italia, invece, andrà in onda su Sky Atlantic dal 31 maggio. La quinta stagione, di 13 episodi, promette sangue.
Netflix ha rilasciato il primo trailer, eccolo:
Nel trailer, sentiamo Frank Underwood, Presidente degli Stati Uniti, farsi gioco del popolo americano e dichiarare la sua intenzione di far durare ancora a lungo la dinastia degli Underwood. Sentiamo infatti Frank dire:
# #
Gli americani non sanno cosa è meglio per loro, ma io sì. So esattamente di cosa hanno bisogno. Sono come bambini, dobbiamo tenerli per le loro dita appiccicose e pulire le loro bocche sporche. Insegnar loro cosa è giusto e cosa sbagliato. Dir loro cosa pensare e come sentirsi, e cosa desiderare. Hanno bisogno di aiuto per scrivere i loro sogni più selvaggi, per creare le loro paure peggiori. Fortunatamente per loro, ci sono io. Ci sei tu. Underwood 2016-2020-2024-2028-2032-2036. Una nazione: Underwood.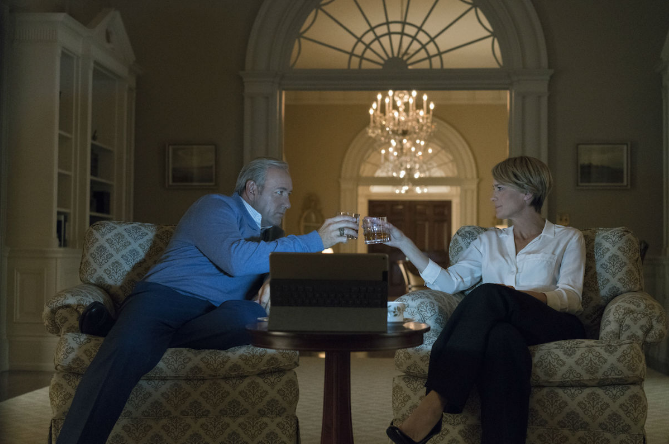 La quinta stagione di House of Cards sarà la prima senza il creatore Beau Willismon. A prendere il timone della serie saranno Melissa James Gibson e Frank Pugliese, già produttori esecutivi. "È una grande perdita" aveva commentato lo scorso autunno l'attore Paul Sparks (interprete di Thomas Yates) riguardo all'addio di Willismon. "Ma Melissa e Franks sono stati nel team degli scrittori per molto tempo, sono autori di teatro come Beau, quindi capiscono come funziona. Siamo in buone mani".
Nella quinta stagione di House of Cards ritroveremo Kevin Spacey e Robin Wright nei panni di Frank e Claire Underwood. Nel cast con loro anche Sparks, Michael Kelly (Douglas Stamper)​, ​Jayne Atkinson (Catherine Durant)​, ​Neve Campbell (Leann Harvey)​, ​​Derek ​Cecil (Seth Grayson) e Joel Kinnaman (William Conway)​.