Meredith Grey e McDreamy hanno avuto la storia d'amore più romantica e straziante delle serie tv. Da quel momento in poi, per i fan qualsiasi interesse amoroso di Meredith è diventato una minaccia. Ma è ora che tutti accettiamo il fatto che Meredith abbia forse trovato il suo Amore.
La sua attuale relazione con Andrew DeLuca, tuttavia, spacca il fandom: alcuni lo amano, altri lo odiano. Il resto sogna un ritorno di McDreamy (sotto forma di angelo custode).
Tutto è iniziato quando DeLuca ha baciato Meredith alla fine della quattordicesima stagione. Dopo varie puntate in cui Meredith, tra appuntamenti al buio e l'interesse di Link, nell'episodio intitolato "In the Air Tonight"  prende una decisione. Con sorpresa di nessuno, hanno recentemente annunciato di essere ufficialmente una coppia e Meredith ha persino detto al suo migliore amico Alex la notizia, il che significa che è parecchio importante come cosa.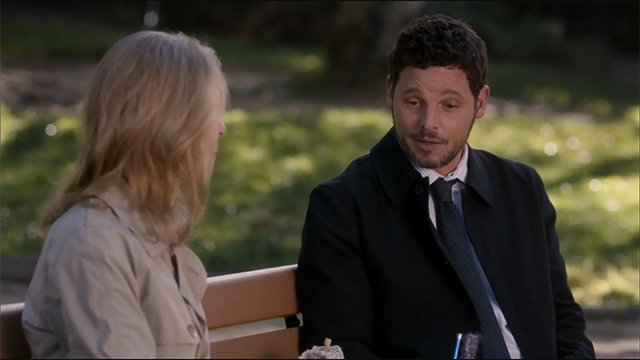 Mentre il loro futuro è ancora incerto (Grey's Anatomy ci ha insegnato a prendere tutto con le pinze) Giacomo Gianniotti, che interpreta DeLuca, dice che i fan dovrebbero dargli una possibilità.
"Spero che i fan possano essere propositivi per questo loro rapporto e vedere che anche se ha perso il grande amore della sua vita, merita di essere felice anche trovando compagnia. I fan dovrebbero essere entusiasti nel vederla sorridere, se lo merita".
In effetti, gli scrittori non stanno cercando di creare un altro McDreamy – vogliono che Meredith vada avanti, proprio come tutti noi. "Quello che realizzo mentre scrivo di Meredith e Andrew è che posso avere tutta la trepidazione, la paura o i nervi che voglio avere, ma ogni volta che scrivi per Ellen Pompeo e qualcun altro la chimica è diversa", ha detto lo showrunner Krista Vernoff a The Hollywood Reporter.
Siamo sempre stati abituati ad amori tormentati, strazianti e in un modo molto ambiguo, felici. Ma con Grey's Anatomy il mainagioia è dietro l'angolo!