Grande new entry nel cast di Supergirl. E' ufficiale: nella seconda stagione, accanto alla supereroina potrebbe esserci anche Superman!
Il famoso eroe della DC era stato già inserito spesso nella prima stagione senza tuttavia apparire in maniera diretta ma sempre con inquadrature da lontano o in controluce. Clark Kent aka Kal El aveva anche avuto qualche conversazione online con la cugina ed era apparso da bambino durante gli ultimi episodi della prima stagione. I produttori e sceneggiatori hanno affermato che la scelta di accennare solo al suo ruolo è stata dettata dal desiderio di mantenere al centro dell'attenzione il ruolo di Kara, che sarebbe di sicuro stato oscurato inserendo il supereroe come regular. E' probabile che con il recente spostamento della serie tv dalla CBS alla CW gli sceneggiatori abbiano voluto dare una scossa alla trama inserendo il famoso supereroe ed annunciando molti crossover tra le varie serie tv che si concentrano sui supereroi (Arrow, The Flash e Legends of Tomorrow). Ad annunciare il suo ingresso nel cast è stato il produttore Andrew Kreisberg:
"Greg Berlanti, Ali Adler ed io siamo entusiasti di accogliere Clark Kent, ed il suo meno famoso alter ego, nel mondo di Supergirl. Superman apparirà nei primi due episodi della nuova stagione e non vediamo l'ora di scoprire chi sarà il prossimo ad indossare il mantello rosso."
Il Supereroe, infatti, arriverà a National City per far visita alla cugina Kara (che sarà interpretata sempre da Melissa Benoist), ma ancora non sono stati ancora forniti i nomi dei candidati per la parte. In molti vorrebbero rivedere in questo ruolo Tom Welling, già Superman in tutte le stagioni della famosa serie tv Smallville, ma le probabilità sono molto basse anche se l'attore in passato aveva affermato di essere interessato ad interpretare un cameo in Supergirl.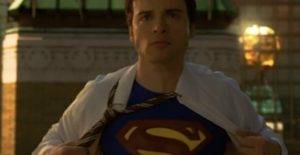 Di certo tra i candidati non ci sarà nemmeno Henry Cavill già impegnato in questo ruolo sul grande schermo (lo ricordiamo nell'ultimo film della DC "Batman vs. Superman" e probabilmente lo rivedremo anche nel prossimo "Justice League"), e considerando anche la decisione della Warner Bros di separare i film e le serie tv della DC Comics.
Incerto il numero degli episodi in cui l'Uomo di Acciaio comparirà, di sicuro nei primi due della nuova stagione, come già annunciato dal produttore, ma potrebbe essere una guest star molto ricorrente.
La serie debutterà questo autunno sulla CW e sicuramente dopo questa notizia cambieranno molte cose. E voi? Non siete in super attesa come noi?