# #
Spoiler, spoiler e spoiler!
La lettura di questo articolo è caldamente sconsigliata a tutti quelli che ancora non hanno visto la prima puntata della settima stagione di The Walking Dead.
È ormai passata una settimana, ma gli effetti collaterali della premiere della settima stagione di The Walking Dead si fanno ancora sentire. È difficile, infatti, digerire la scomparsa di Abraham e di Glenn; i due che hanno avuto, purtroppo, l'onore di assaggiare la potenza della sanguinaria Lucille e la violenza del suo padrone Negan.
# #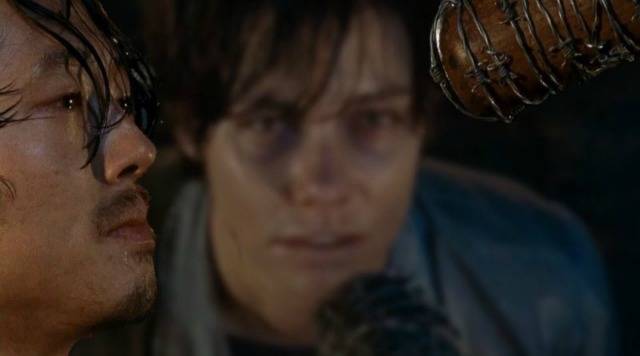 Entrambi i personaggi, qualche secondo prima di essere giustiziati da Negan, sono riusciti a dire addio alle proprie compagne in un modo tutto particolare. Abraham, a testa alta e senza mai distogliere lo sguardo dal leader dei Salvatori, dice addio a Sasha con un gesto che significa "pace", simbolo che i due hanno usato alcune volte per salutarsi, soprattutto in occasioni in cui erano consapevoli che sarebbero stati lontani l'uno dall' altra per parecchio tempo.
# #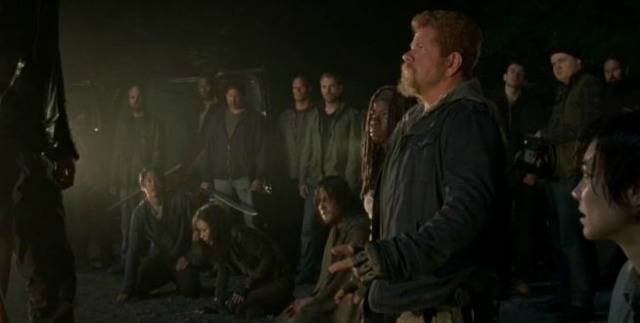 Il modo in cui Glenn dice addio a Maggie è stato, invece, una vera e propria fitta al cuore. Dopo aver subito la prima mazzata da Negan, Glenn trova la forza per poter pronunciare le sue ultime parole alla compagna:
"Maggie io ti troverò".
Tutti in quel momento eravamo talmente occupati ad elaborare la perdita da non aver minimamente dato peso alle parole dette da Glenn. Io ti troverò: cosa significa? A svelare il mistero è l'attrice Lauren Cohan: durante le scorse stagioni la coppia è stata costretta a separarsi in varie situazioni riuscendo però a ritrovarsi ogni volta; Glenn è sempre stato al fianco di Maggie cercando di proteggerla e di infonderle un po' di coraggio, anche nei momenti più bui, soprattutto quando la ragazza ha dovuto dire addio al padre, Hershel, ed alla sorella Beth.
Questa volta è tutto diverso: Maggie è sola, distrutta, col cuore spezzato e incinta. Quella frase ha un significato  molto profondo, esprime l'amore e, così spiega Steven Yeun, "dimostra che sono anime gemelle. Il tempo e lo spazio non cancelleranno i loro sentimenti. Ti troverò vuol dire sarò sempre con te. Ti guarderò dall'altro, te e il nostro bambino. Ti proteggerò. Io ci sarò sempre. Credo che Glenn stesse lottando per trovare le parole e 'Maggie, ti troverò' è stata una frase derivata da un'altra esperienza passata relativa alla volta in cui stava veramente cercando sua moglie".
Fazzoletti alla mano, ormai è ora di dire veramente addio ad Abraham e Glenn, e questa volta, purtroppo, non vivranno "tutti per sempre felici e contenti"..