Giancarlo Esposito sta per tornare a vestire i panni di Gustavo Fring, signore della droga di Breaking Bad, nello spin-off Better Call Saul 
Ormai dovreste saperlo tutti, e se non lo sapete leggete questo articolo. Gustavo Fring sta per tornare. Tornerà nella terza stagione di Better Call Saul, spin-off di Breaking Bad incentrato sulla vita dell'avvocato Saul Goodman, anche meglio conosciuto, nella nuova serie, come Jimmy McGill. Un ritorno atteso, in parte preannunciato da una serie di indizi sciorinati nell'arco della splendida stagione di Better Call Saul, ma che ha fatto comunque molto scalpore una volta che è stato reso ufficiale. Come è normale che sia, trattandosi di un personaggio di questo genere e di questo livello.
L'esaltazione però non è soltanto una prerogativa dei fan. Perchè anche Giancarlo Esposito, l'attore che interpreta Gus, sembra particolarmente esaltato da questa prospettiva, come dimostra un'immagine che ha postato poche ore fa sulla sua pagina Facebook. Immagine postiamo qua sotto e che recita, nella didascalia, esattamente così:
Time to get back to work.
#FringsBack #BetterCallSaul #LosPollosHermanos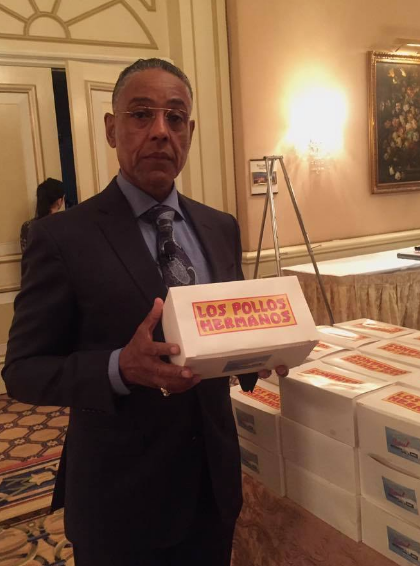 Insomma, anche Giancarlo Esposito non vede l'ora di tornare a vestire i panni di Gus Fring, nella stessa misura in cui noi fan non vediamo l'ora di rivedere all'opera Il Re dei Polli. 
Personaggio quello di Gus Fring, che catapultato nell'universo Better Call Saul, potrebbe dare luogo allo sviluppo di una serie di situazioni molto interessanti e caratteristiche: esattamente 7, come raccontiamo in questo articolo. 
Ma la cosa più divertente ed emozionante, è che Gus potrebbe non essere l'unico grande personaggio che da Breaking Bad sbarcherà in Better Call Saul. C'è un altro grandissimo personaggio che potrebbe tornare, e che contribuirebbe assieme a Gus, Saul, Mike e tutti i Salamanca, a rendere Better Call Saul ancora più epico, trasformandolo in parte in una sorta di Breaking Bad 2.0. L'attore che interpreta il personaggio in questione, ha addirittura fatto tremare i fan dicendo che spera tanto nel ritorno e che addirittura, forse, aveva già finito le riprese. Se volete scoprire chi è e se in generale volete scoprirne di più su questa storia, potete scoprire tutto in questo articolo. Noi intanto stiamo letteralmente fremendo e non vediamo l'ora che inizi la terza stagione di Better Call Saul!