# #
Nessuno si aspettava un risultato del genere, eppure nonostante il leak (del quale ne avevamo parlato qui) avvenuto nei giorni antecedenti alla regolare messa in onda, il quarto episodio di Game of Thrones è riuscito ad ottenere il record d'ascolti! Questa settima (e penultima) stagione sembra infatti non volersi smentire in fatto di grandiosità: già l'episodio di debutto "Dragonstone" era riuscito a fare incollare ai teleschermi ben 10.1 milioni di persone, battendo ogni record precedente incassato dalla Serie. Con questo quarto episodio che, ammettiamolo, è stato un vero festival per i nostri occhi da fan della Serie Tv, le persone sono aumentate a 10.2 milioni! E in tutto ciò, in questi giorni, si dovranno sommare anche le visualizzazioni tramite le repliche e lo streaming.
# #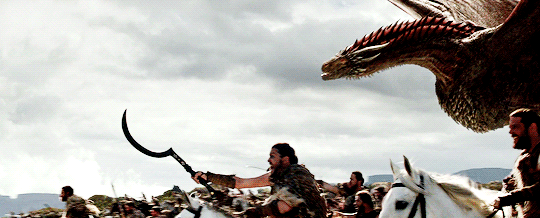 Sicuramente quest'avvenimento risulta come un'ottima notizia per l'emittente televisiva HBO che attualmente sta ulteriormente combattendo contro le nuove minacce avanzate da parte degli hacker, i quali hanno promesso apparentemente di diffondere dati inerenti ai successivi episodi e, probabilmente, anche informazioni personali riguardo il cast della Serie.
# #
La notizia del record d'ascolti, ad ogni modo, porta una ventata di aria fresca anche per due dei produttori esecutivi della Serie, David Benioff e D.B. Weiss, i quali insieme all'emittente si erano professati non preoccupati riguardo alla situazione.
Quasi certamente, il leak dell'episodio ha aiutato la visione della puntata; di fatti, coloro che avevano guardato "The Spoils of War" prima del previsto, durante il fine settimana sui vari social network si erano lamentati (diffondendo uno spoiler qui e la) della scarsissima qualità video, promettendosi di rivederla successivamente con una qualità sicuramente più definita per godersi al meglio la battaglia finale.
Sostanzialmente la miglior difesa contro gli hacker ed i leak che diffondono è avere un grande prodotto ed HBO produce una grande Serie Televisiva, della quale non ci si stanca mai.