Sembra che il primo dei cinque spinoff proposti da Game of Thrones non arriverà prima del 2020. Mentre il romanzo di George R.R. Martin A Song of Ice and Fire è stato un successo cult sin dal suo debutto negli anni novanta, pochi avrebbero potuto immaginare che l'adattamento della HBO avrebbe reso l'autore famoso tanto da vedere ogni stagione eclissare la precedente per contenuti. Anche nella sua settima stagione, i nuovi episodi della Serie Tv sono riusciti ad attrarre sempre più spettatori rispetto ai loro predecessori. E non è stato facile, poiché come sappiamo, questa estate ogni puntata di Game of Thrones è stata pubblicata prima della messa in onda ufficiale.
L'ottava stagione di Game of Thrones non andrà in onda fino al 2019. Anche se questo non è niente rispetto all'attesa a cui sono abituati i fan aspettando che Martin finisca di scrivere il sesto libro. Ma siamo abituati all'attesa, dopo che l'anno scorso abbiamo appreso che i cinque spinoff di Game of Thrones sono in lavorazione, adesso sappiamo che almeno uno verrà pubblicato ma non prima del 2020. Inoltre, sappiamo anche che George Martin sta aiutando a creare almeno uno di essi. Non si sa che piega prenderanno le storie o se useranno anche i libri come materiale di partenza.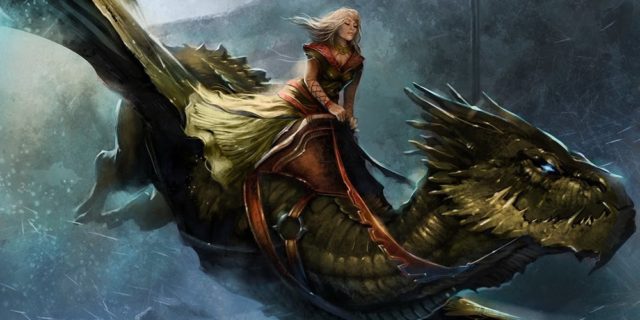 Il presidente della programmazione della HBO Casey Bloys ha parlato ai TCA per quanto riguarda il futuro di Game of Thrones. Leggiamo insieme cosa ha rivelato:
Ce ne sono cinque. Se facciamo un pilot e una serie, nulla sarà trasmesso su HBO almeno fino a un anno dopo la stagione finale. Ho visto del materiale eccitante. Abbiamo scrittori davvero grandi che lavorano su questi progetti. Ma non c'è un orario. Non tutti sono sullo stesso programma, quindi ho visto versioni diverse di cose diverse che sono potenzialmente eccitanti. Ma non c'è alcun calendario su quando una decisione verrà presa su qualcuno di questi spin-off.
Effettivamente che fretta dovrebbe avere la HBO di programmare uno spin-off, quando Game of Thrones non è ancora finito. Tempo al tempo: vedremo realizzati questi progetti.