Due scherzi mai trapelati dal set, tra cui uno alle giovanissime Sophie Turner e Maisie Williams, sono solo alcune delle scoperte dal nuovo libro dietro le quinte di Game of Thrones: "Fire Cannot Kill a Dragon".
Il libro ha un intero capitolo intitolato "Mummer's Farce" completamente dedicato a scherzi e aneddoti divertenti verso il cast della serie (ed uno speciale di un membro del cast ai produttori)
Uno dei vari scherzi che potete leggere nel libro risale al 2009, durante le riprese del pilot originale della serie; dopo che Turner (Sansa Stark) e Williams (Arya Stark) erano diventate velocemente ottime amiche lavorando nella serie.
Ecco come ci siamo divertiti durante la prima stagione: abbiamo detto a Maisie e Sophie che siccome erano troppo giovani non potevano partecipare alla festa di fine riprese del pilot. Quindi le abbiamo detto che ne avrebbero avuta una tutta loro, adatta ai ragazzi, a un McDonald's. Hanno iniziato a piangere.
Queste le dichiarazioni dello showrunner David Benioff.
Segue a ruota anche Dan Weiss con un'aggiunta: "In seguito abbiamo ovviamente detto loro che potevano partecipare alla festa originale, e lì si sono messe di nuovo a piangere per paura di non potersi rivedere più"
Questo ovviamente perché durante le riprese del pilot originale, il cast e la crew non sapeva se la serie sarebbe stata acquisita e avrebbe avuto un futuro (e quasi stavano per non averlo), quindi nessuno alla festa sapeva se avrebbe più rivisto i colleghi con cui aveva lavorato.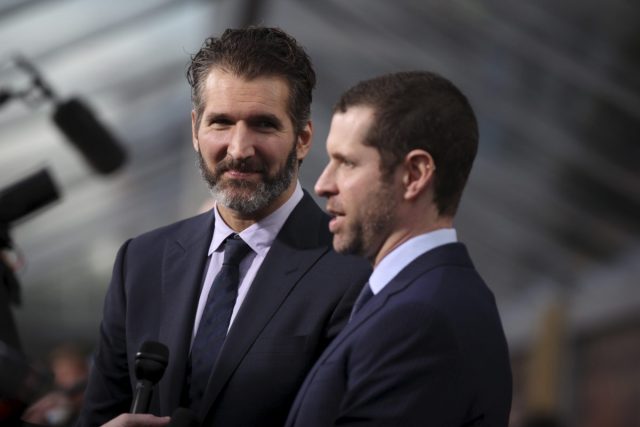 Un altro scherzo più elaborato fu indirizzato a un attore che non faceva parte del cast principale. Benioff e Weiss sono amici con il creatore di It's Always Sunny In Philadelphia, Rob McElhenney; questi consigliò loro di assumere Matt Shakman, suo fidato direttore, per la settima stagione di Game of Thrones.
Nonostante la mancanza di esperienza nel dirigere prodotti incentrati sull'azione, i due diedero una possibilità a Shakman con due episodio molto ambiziosi, tra cui "The Spoils of War" (o, come tradotto in italiano, Le Spoglie di Guerra).
Pensammo che sarebbe stato divertente dire a Rob che la collaborazione con Matt non funzionava, e che lui era un totale disastro. Si sarebbe sentito così in colpa per avercelo consigliato. Così ci scambiammo un paio di email con CmElhenney, dando tempo al tutto, e lui andò nel panico man mano che il discorso proseguiva
Commenta così Weiss, aggiungendo che si ricorda bene di come Rob rispose con un "Cosa-cosa-cosa succede?!" al cui hanno risposto che l'episodio stava diventando un caos totale e che avremmo dovuto intervenire in prima persona.
Lo ricorda anche Shakman, che conferma come Rob si sentisse torturato dalla cosa, e cercava in ogni modo di risolvere la situazione tra i tre senza sapere di essere vittima di uno scherzo.
Alla fine l'episodio andò anche molto bene, con una valutazione media di 9.8 su IMDB.com, e forse questo è riuscito a calmare il panico del produttore.