In  questo articolo, settimane fa, vi avevamo raccontato come il giovane Kit Harington abbia spoilerato senza pietà il finale dell'ultima stagione di Game of Thrones. Oggi, invece, la moglie di Jon Snow (almeno nella realtà) racconta quanto il marito sia stato bugiardo e che lei in realtà non sa nulla di nulla sul finale del Trono di Spade. Rose Leslie ha dichiarato a riguardo:
"Io sinceramente non conosco il finale di Game of Thrones. Lui mi ha rivelato in anticipo il finale della scorsa stagione e mi ricordo di essermi un pò arrabbiata. Kit era venuto a dirmi che un drago sarebbe morto e poi sarebbe stato tirato fuori dal lago da Re della Notte. Non solo, mi ha rivelato che avrebbe distrutto la barriera con il fuoco permettendo all'Esercito dei Morti di attraversarla. Mi sono infuriata, perché ho detto: Non dovevi dirmi tutto! E questa è un'informazione enorme! E lui è tipo: Beh, hai chiesto! E io ero tipo: Lo so."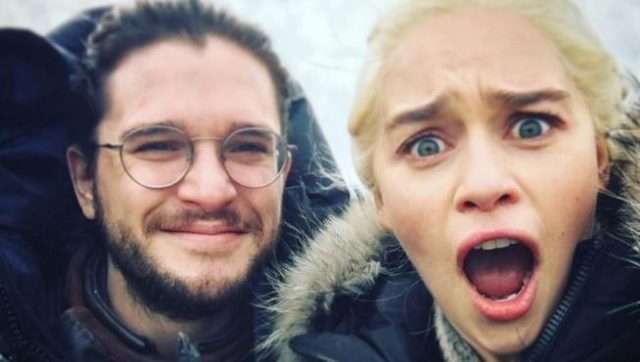 "Per essere onesti, la mia richiesta era forse ridicola. Era una cosa del tipo, 'Dimmi alcune cose, ma non farmi spoiler importanti.' In realtà tornando alla domanda non conosco il finale dell'ultima stagione di Game of Thrones perché, che ci crediate o no, è uno show fenomenale e monumentale, e io voglio guardarlo come tutto il mondo in tempo reale quando uscirà senza alcuna anticipazione. Voglio finalmente arrivare all'episodio finale che veramente non so quale piega potrebbe prendere."
Quindi, morale della favola Rose Leslie è una di noi, una del popolo! Ma, in verità, noi se fossimo stati al suo posto ci saremo fatti raccontare tutto da Kit. Forse la moglie non vuole sapere quali particolari piccanti si celano dietro il finale di Game of Thrones. Noi li scopriremo il 14 aprile!