La Montagna di Game of Thrones ha ribadito, in una nuova competizione, che lui è l'uomo più forte del mondo. L'attore ed atleta islandese 29enne, Hafþór Júlíus Björnsson, conosciuto per essere il braccio destro di Cercei Lannister, è stato incoronato questa settimana in Manila, nelle Filippine, all'evento World's Strongest Man dopo aver vinto tre delle sei gare che si dovevano disputare.
Da quando è iniziato questo 2018, Björnsson ha gareggiato – e vinto – tutte e tre gli incontri a cui ha preso parte.
All'Arnold Classic avvenuto a marzo, l'attore ha addirittura stabilito un nuovo record di deadlift (stacco) da terra. L'evento del mese di aprile, l'Europe's Strongest Man, Björnsson l'aveva definito come un "riscaldamento per la competizione internazionale".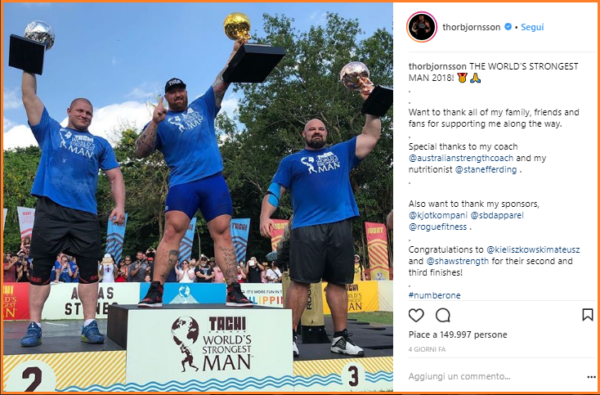 Nella didascalia della foto pubblicata sul suo account Instagram, dove ha annunciato la sua vittoria si legge:
Voglio ringraziare tutta la mia famiglia, i miei amici ed i miei fan che mi hanno supportato lungo la strada. 
Sempre nella didascalia scritta dallo sportivo, si possono leggere anche i complimenti rivolti ai suoi avversari: il polacco Mateusz Kieliszkowski, arrivato secondo nella gara, e l'americano Brian Shaw, che ha conquistato invece il terzo posto.
Per chi non lo sapesse, la carriera da "strongman" di Björnsson è nata ben dieci anni fa – nel lontano 2008 – dopo un brutto infortunio al ginocchio nella pallacanestro.
Un percorso dunque particolarmente lungo, fatto di sudore e sacrifici; finalmente, però, l'islandese ha potuto coronare il suo sogno.
Ebbene, come sappiamo, in questo momento sono in corso le riprese per l'ultima stagione di Game of Thrones, prevista per l'estate del 2019. Stagione dove forse vedremo l'attore, malgrado i suoi impegni avvenuti in questi ultimi mesi.
Cosa ne pensate? Credete che Björnsson tornerà a vincere nuovi titoli prima della fine di quest'anno?