Liam Cunningham si è opposto fermamente a una particolare decisione presa in Game of Thrones. Il suo Ser Davos avrebbe dovuto avere una forte attrazione per un noto personaggio della serie.
La produzione di Game of Thrones aveva deciso di dare a Davos un interesse amoroso ben preciso. La scelta era ricaduta sulla bella Missandei, giovane ancella e amica di Daenerys. Ma Liam Cunningham ha detto no.
A David Benioff piace creare polemiche. Quando incontriamo per la prima volta Daenerys, Benioff e Mark Myloid (regista di diversi episodi della serie) volevano che Davos sviluppasse una cotta per Missandei. E io mi sono opposto. 'Non esiste che lo faccia' ho detto. É l'unica cosa contro la quale mi sia mai ribellato.
Un problema di età
La più grande preoccupazione è stata sicuramente la grande differenza di età tra i due personaggi e attori. All'epoca delle riprese, Cunningham aveva 56 anni mentre Nathalie Emmanuel solo 26.
Quella donna è una dea, ma visti i trascorsi di Davos con Shireen (Kerry Ingram) e Lyanna Mormont (Bella Ramsey), non potevi fargli provare attrazione per una donna così giovane. Non metterete a rischio il mio duro lavoro nel conquistarmi la simpatia dell'audience soltanto per fargli fare la figura del pervertito.
Le motivazioni di Cunningham sono più che lecite dato che Ser Davos può essere riconosciuto come uno dei pochi personaggi positivi delle vicende di Game of Thrones.
Vederlo vicino a una donna così giovane avrebbe sicuramente cambiato l'opinione degli spettatori nei suoi confronti. Ma bisogna ricordare che nel mondo di Game of Thrones le convenzioni sociali non sono mai state rispettate.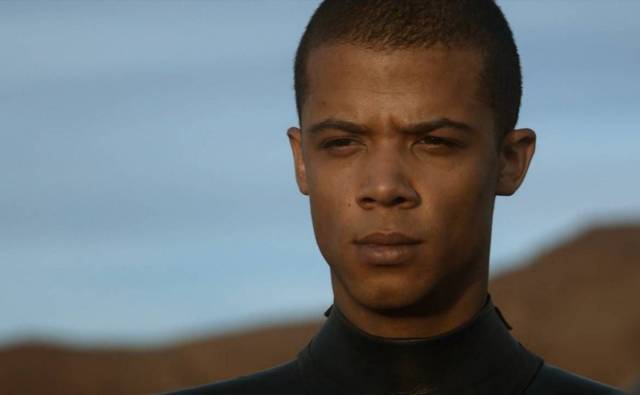 Cosa avrebbe detto Verme Grigio?
Ricordiamo anche che Missandei ha instaurato un rapporto speciale con Verme Grigio, forse la presenza di Davos avrebbe rimescolato le carte in tavola.