Lo scorso martedì, diverse decine di persone hanno avuto la fortuna di trovarsi nel posto giusto al momento giusto. Specie se conoscono la serie Game of Thrones (ma d'altronde, chi non la conosce?!). Il posto giusto era la Torre di Londra, e il momento era la performance del Reggimento di Guardie a Piedi Coldstream di Sua Maestà. I visitatori si trovavano lì aspettando che le guardie suonassero la tradizionale melodia di "The Standard of St. George March". Ma qualcosa non è andato secondo i piani.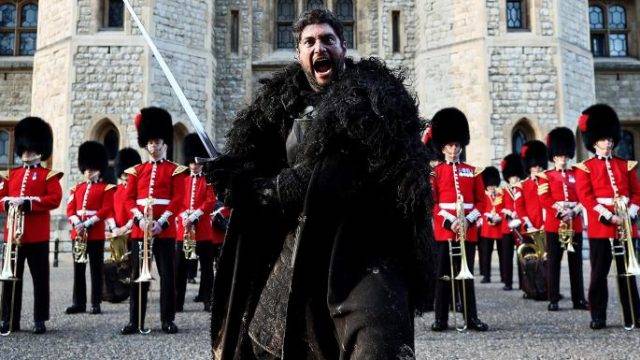 Le Guardie della Regina, una volta posizionate per la loro performance, hanno iniziato a suonare la sigla di Game of Thrones. E in quel momento ecco spuntare dodici attori che interpretano i Guardiani della Notte, con tanto di uniforme, pellicce e spade. Rubano la scena alle Guardie Reali e, sotto gli occhi increduli e – alcuni – spaventati della gente, tirano fuori le spade e incitano il pubblico a urlare con loro.
Questo breve ma intenso spettacolo è stato organizzato da Sky Atlantic UK, in vista dell'ottava e ultima stagione della serie. Il primo episodio andrà in onda il 15 aprile.
Qui il video:
Il sergente maggiore Richard Maddocks ha parlato della performance:
Suoniamo in ogni parte del mondo e in ogni tipo di concerto o evento, ma questo è uno dei momenti salienti nella carriera di tutti i membri della divisione musicale dei Coldstream. Non abbiamo mai fatto nulla di simile. E il fatto che sia una delle serie tv preferite di molti di noi, ha reso questa esperienza più che speciale. I Guardiani della Notte hanno entusiasmato e sbalordito il pubblico che si trovava lì alla Torre. Ci hanno sfidato portandoci al massimo delle nostre forze per eseguire il brano al meglio.