Il giorno in cui diventi fan di Game of Thrones è la fine, perché oltre ad assistere alle innumerevoli morti (un pò come via avevamo già detto qui), sarai sottoposto ogni volta a ship continue che vuoi per un motivo, vuoi per un altro non si avvereranno mai. MAI.
Mancano ormai due settimane alla messa in onda settima stagione di Game of Thrones ma gli showrunners Benioff e Weiss, si divertono a fantasticare con la fantasia di noi poveri fan in attesa che ci vengano date succose anticipazioni.
Questa volta Benioff e Weiss si sono espressi su una delle ship più chiacchierate dai fan. Su in groppa a Drogon e vediamo di chi si tratta…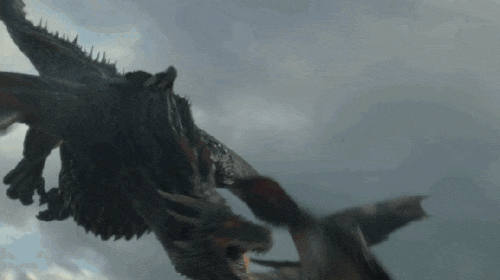 Stiamo parlando di… Brienne e Tormund. In un'intervista a Entertainment Weekly, Weiss ha esordito cosi:
"C'è un momento in un episodio in cui tutti stanno per partire a cavallo da Castle Black e c'è un attimo – che non era affatto stato scritto- in cui lei lo guarda e lui le sorride. Non è qualcosa che potresti mai scrivere: c'è quest'uomo che si sta avvicinando a lei e la guarda in un modo che la rende nervosa a tal punto da farla guardare lontano. L'ho visto 150 volte e ogni volta ho riso, loro due sono pura energia assieme"
Tutto carino Weiss cerca di intenerirci, fin quando poi interviene Benioff per darci la mazzata decisiva:
"Si la loro 'connessione' ci ispira perchè abbiamo intenzione di uccidere uno di loro. Perchè non ci può essere un lieto fine o una storia d'amore in Game of Thrones; ma non ti dirò mai di chi di loro due si tratta."
Benioff dice bene, "non ci può essere un lieto fine in Game of Thrones", ti svelo un segreto Benioff: noi questo lo abbiamo capito sei stagioni fa. Nonostante questo, credo che sia opportuno far partire la Totomorte, chi lascerà Westeros: Tormund il bruto o Brienne la guerriera?
Appuntamento al 16 Luglio.