# #
Attenzione: non proseguire con la lettura se non volete imbattervi in spoiler sulla settima stagione di Game of Thrones.
# #
Tutti i nodi stanno venendo al pettine e mancano solo i sei episodi dell'ottava stagione di Game of Thrones per scoprire chi, finalmente, riuscirà ad averla vinta e potrà sedersi sul Trono di Spade, dominando così sui Sette Regni. Sempre che gli Estranei non vincano la Great War e non rimanga nessuno vivo su cui governare.
Il Gioco dei Troni è al momento imprevedibile e è stato reso tale anche grazie alla piega che ha preso la relazione tra Daenerys Targaryen e "il non più" Jon Snow. È infatti mentre si consuma per la prima volta la passione tra la Madre dei Draghi e il Re del Nord che veniamo a sapere la vera identità di Jon: lui è Aegon Targaryen, legittimo erede del Trono di Spade, nonchè nipote della sua attuale amante.
# #
È suo fratello Bran, ormai divenuto a tutti gli effetti il Corvo Con Tre Occhi, a mostrarci attraverso una visione del passato l'unione in matrimonio di Lyanna Stark e Rhaegar Targaryen, i veri genitori di Jon /Aegon, legittimando così la sua eredità. Tutto questo grazie al provvidenziale aiuto di Sam che indica al Corvo Con Tre Occhi dove guardare perché, a quanto pare, può vedere tutto ma sembra non prestare molta attenzione.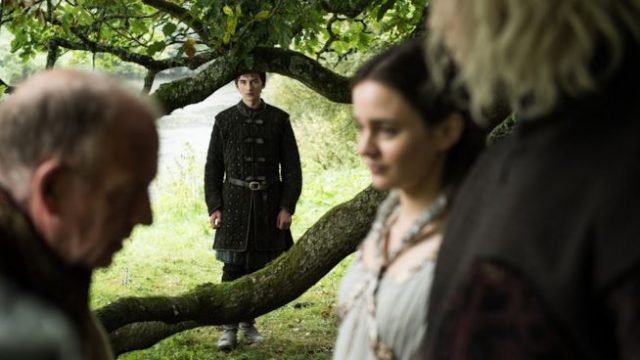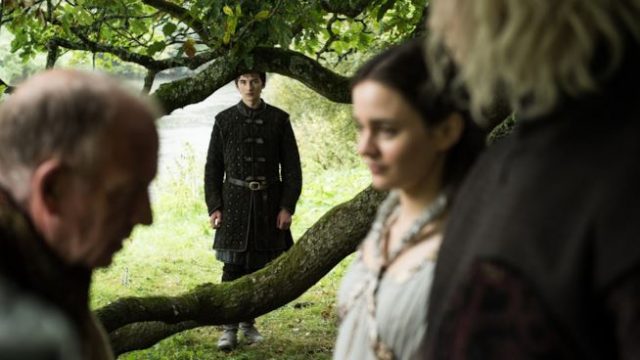 Jeremy Podeswa, regista dell'episodio The Dragon and the Wolf, ha commentato così la scena:
Il mio obiettivo era quello di rendere omogenei tutti questi elementi diversi. C'è un elemento onirico nella sequenza, Jon e Dany si uniscono perché c'è una sorta di forza cosmica che li congiunge. Combinare la loro unione, i due personaggi 'storici' e Bran che entra nel passato per scoprire la verità rende questo momento mitico
Emilia Clarke (Daenerys) e Kit Harington (Jon) hanno commentato i possibili sviluppi che prenderà la relazione tra i loro personaggi dopo che avranno scoperto che sono zia e nipote. La madre dei Draghi ha scherzosamente commentato:
Ewwww…!!Penso che andrà in questo modo: prenderò uno spazzolino da denti e…[ fa finta di spazzolarsi freneticamente la lingua]. Recitare quella scena è stato davvero strano. Non so come affronteranno quello che sono l'uno per l'altra… credo che possano restare disgustati. Inoltre ho lavorato così duramente per arrivare a tutto questo, non voglio condividere quel trono. No, il trono è grande abbastanza per un solo drago e quel posto è il mio. Questo è tutto.
Kit Harington è stato invece più fatalista:
Penso che fosse inevitabile da circa metà stagione che Jon e Daenerys finissero a letto insieme. Credo che entrambi sappiano che è sbagliato e che la loro scelta causerà dei problemi. Ma è quello che accade quando ti accorgi di provare qualcosa di profondo per qualcuno e sei ricambiato. È come un treno in corsa: non lo puoi fermare.
Ha poi voluto aggiungere un commento alla scena girata con l'amica Emilia:
Di solito incontri per la prima volta il tuo co-protagonista e sviluppi quel feeling in un determinato periodo di tempo. Ma in questo caso conosci qualcuno da sette anni e hai condiviso quell'incredibile percorso nelle vostre vite… siete inoltre entrambi un po' spaventati per quanto accadrà. Io pensavo "Cosa dà vita alla tensione sessuale in questa scena?" ed Emilia rispondeva "Questa è un'esperienza unica come attore, smettila di parlare di tensione sessuale tutto il tempo, fammi gli occhi dolci". E' sicuramente un'esperienza unica e sai che il mondo sta osservando quanto sta accadendo
I sei episodi conclusivi di Game of Thrones, che avranno una durata maggiore rispetto ai precedenti, non andranno in onda prima dell'inoltrato autunno 2018 o, più verosimilmente, nei primi mesi del 2019.
Leggi anche la recensione del finale di stagione: Game of Thrones – Solo la Morte può creare la Vita