# #
La mente di Ryan Murphy è sempre in fermento. Dopo aver creato serie di successo come Scream Queens e American Horror Story, lo sceneggiatore porterà sullo schermo un'altra serie antologica, Feud.
# #
La serie si occuperà di trattare famose faide avvenute all'interno del mondo dello spettacolo. La prima stagione si occuperà dell'attrito tra le dive hollywoodiane Joan Crawford e Bette Davis. La prima stagione di Feud ha ottenuto ufficialmente la data di messa in onda. Intitolata Feud: Bette and Joan, la serie inizierà il 5 marzo e sarà composta da otto episodi. Andrà in onda sul network americano FX.
Joan Crawford e Bette Davis, rivali storiche, si sono trovate a dover lavorare insieme al thriller psicologico Che fine ha fatto Baby Jane? (What ever happened to Baby Jane?, 1962), entrambe con la speranza di riportare in auge le loro carriere. Il film ha poi avuto cinque nomination agli Oscar ed è diventato un cult.
# #
A interpretare le due iconiche dive saranno Jessica Lange, che si calerà nei panni di Crawford, e Susan Sarandon, che sarà Davis. Con loro, un cast di grandi attori. Stanley Tucci (Il diavolo veste Prada) interpreterà il co-fondatore della Warner Bros, Jack Warner. Alfred Molina (Law & Order: LA) sarà il regista Robert Aldrich. Judy Davis (To Rome with Love) si calerà nei panni della giornalista di gossip Hedda Hopper. Dominic Burgess (The Magicians) sarà l'attore Victor Buono.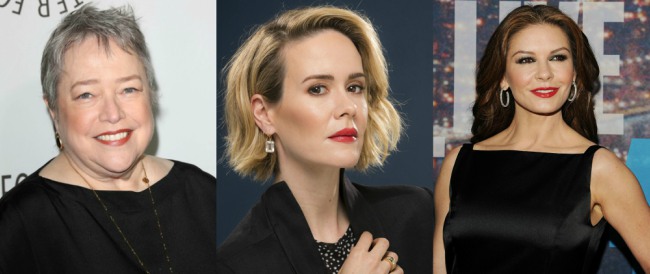 Kathy Bates e Sarah Paulson, entrambe già presenti in molte stagioni di American Horror Story, faranno parte anche di Feud. Bates interpreterà l'attrice Joan Blondell, amica di Bette Davis. Paulson, invece, sarà Geraldine Page, attrice nominata diverse volte all'Oscar, vinto per il film In viaggio verso Bountiful (The Trip to Bountiful, 1985). Catherine Zeta-Jones sarà invece Olivia de Havilland, attrice interprete di Melanie Hamilton nel film Via col Vento (Gone with the Wind, 1939).
Dana Walden, CEO della FOX, è entusiasta del progetto. "Ryan Murphy ha rivoluzionato il mondo delle serie antologiche con American Horror Story e American Crime Story. Feud sarà un'altra gemma. Siamo sicuri che sarà una serie splendidamente recitata, estremamente interessante e intensamente provocativa".