Si smette di interpretare il Dottore, ma non si smette mai di esserlo. E' il caso di David Tennant, interprete del Decimo Dottore nella popolare serie Tv britannica Doctor Who.
In una nuova clip del 2013 postata recentemente da Georgia, moglie di David Tennant, l'attore torna nei panni del suo personaggio in Doctor Who. In quest'occasione, Tennant scivola nuovamente nel suo iconico costume per salutare in modo scherzoso l'amico e sceneggiatore Gary Russell, trasferitosi in Australia.
Ecco la clip, postata da Georgia Tennant su Twitter:
When @twilightstreets left for Australia his friends were asked to contribute to a surprise film. We may have gotten a tad overexcited… pic.twitter.com/pd960krUkO

— Georgia Tennant (@georgiaEtennant) 28 gennaio 2018
Nel video Tennant scherza sul fatto che Russell sia stato risucchiato dal vortice temporale a Cardiff, definendolo un punto fisso nello spazio e nel tempo. "C'è qualcosa di sbagliato" dice, mentre il suo cacciavite sonico lampeggia. "Un punto fisso sta venendo attaccato. L'universo non è lineare, tutto cambia, va e viene, ma ci sono punti fissi, che non possono essere alterati. E' Gary Russell."
E quando Georgia gli dice che Russell si trova a Cardiff, l'attore ribatte: "Cardiff! A Cardiff c'è una crepa nel continuo spazio-tempo. E' una cosa seria, il futuro dell'intera razza umana è a rischio!". Ma tutto risulta andare a posto, perché in realtà Russell è in Australia.
Gary Russell ha lavorato nel team di sceneggiatori per Doctor Who e gli spin-off Torchwood e The Sarah-Jane Adventures. Inoltre, ha lavorato a numerosi fumetti e diretto molte storie audio legati alla Serie del Signore del Tempo.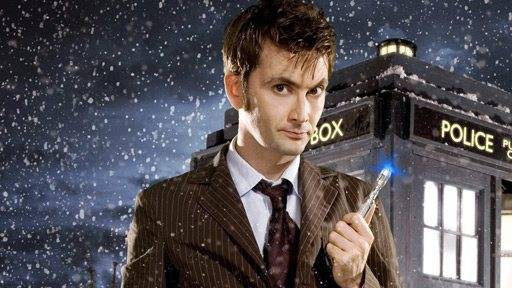 Dopo aver preso parte a Doctor Who, Tennant ha acquisito ancor più popolarità e riconoscimenti grazie al suo ruolo in Jessica Jones, Kilgrave. Lo vedremo presto nei panni del demone Crowley nella Serie Good Omens, tratta dal romanzo di Neil Gaiman.
La moglie, Georgia, è stata anch'ella parte della Serie: figlia di Peter Davison (interprete del quinto Dottore), ha preso parte a un episodio della quarta stagione di Doctor Who interpretando Jenny, figlia del Dottore. Proprio in quell'occasione ha conosciuto Tennant.
Doctor Who tornerà con l'undicesima stagione nel 2018. Nei panni del Dottore troveremo Jodie Whittaker (Black Mirror), mentre a prendere le redini come showrunner sarà Chris Chibnall (Broadchurch).