Un'altra serie antologica arriverà sui nostri schermi, attraverso il servizio di streaming della piattaforma Hulu – che vanta, tra le sue produzioni originali, The Mindy Project (acquisita dalla FOX), Casual e The Path. Si tratta di una serie intitolata Dimension 404 e che si inserisce nell'era della tecnologia.
L'idea per Dimension 404 è stata ispirata dal famoso codice errore 404 che si trova in rete; la serie di genere sci-fi vuole evocare la sensazione che si prova quando si naviga in Internet nella notte, incappando nel lato più strano del web, contenente storie che non possono essere spiegate nel mondo reale. Ognuno dei sei episodi della serie antologica sarà slegato dagli altri e si concentrerà su uno specifico aspetto della tecnologia e dei suoi molti bizzarri e oscuri misteri.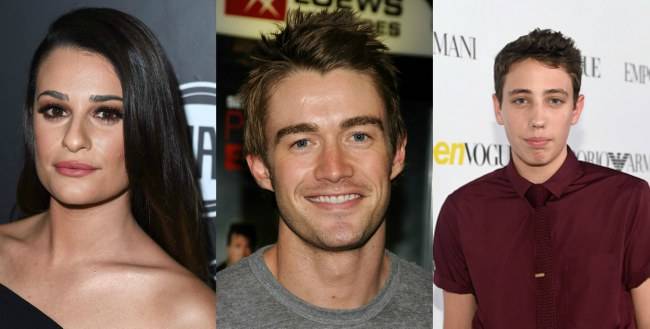 Gli episodi avranno una durata di un'ora e un cast diverso di volta in volta. Lea Michele (Glee, Scream Queens), Robert Buckley (iZombie) e Ryan Lee (Super 8) sono i primi nomi ad essere stati resi noti. Michele e Buckley saranno presenti nello stesso episodio interpretando due personaggi che avranno un interesse amoroso: Michele sarà Amanda, una ragazza che decide di iscriversi a un sito di incontri online dopo una brutta rottura, mentre Buckley sarà Adam, un uomo vulnerabile dal punto di vista emotivo che si innamora immediatamente di Amanda e che finisce per dirle "ti amo" troppo presto: ciò porterà i due a concludere la relazione e Adam dovrà riflettere su se stesso. L'episodio in cui vedremo Ryan Lee, invece, sarà ambientato negli anni ottanta del Novecento, precisamente nel 1982, e racconta di Andrew, un giocatore di videogiochi segretamente gay che viene preso di mira dai bulli a scuola e che trova sollievo nella sala giochi: qui viene a contatto con il misterioso gioco Polybious, sulle cui origini deciderà di indagare. Altri episodi includeranno un cubo di carne senziente di nome Bob che conosce molte cose, un cartone animato che contiene il segreto per il viaggio nel tempo e bibite energetiche che potrebbero causare un'apocalisse.
Dimension 404 è prodotta da Lionsgate e RocketJump e creata per Hulu da Dez Dolly, produttore esecutivo e showrunner, e Will Campos, insieme a Dan Johnson e David Welch. Altri produttori esecutivi sono Freddie Wrong e Matthew Arnold. Le riprese sono in corso, ma non è ancora stata resa nota la data ufficiale di messa in onda.