# #
Daredevil 3: lavori in corso
La serie che ha fatto da apripista a quello che è stata una delle più interessanti collaborazioni degli ultimi anni si appresta a tornare per una terza (e aggiungerei molto attesa) stagione. Ebbene si, Daredevil 3 inizia  a prendere forma!
# #
Si tratta del primo genito dell'unione nata tra Marvel e Netflix che ha rilasciato negli ultimi anni serie singole per i 4 supereroi più controversi (o introversi, decidete voi): Daredevil appunto, Jessica Jones, Luke Cage e Iron Fist.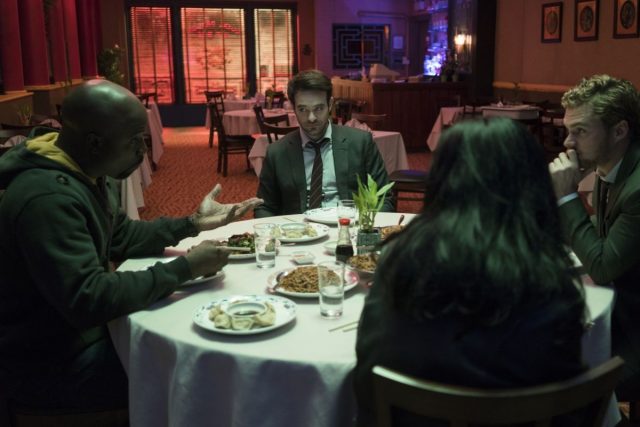 Daredevil è ad oggi la sola serie tra quelle singole dei personaggi che hanno poi preso parte al crossover The Defenders ad avere all'attivo due serie. Preferita dai fan, la saga di Daredevil sembra essere in procinto di tornare prima di quanto si possa pensare.
# #
A quanto pare le riprese della terza stagione avranno inizio a partire da Ottobre 2017.
Secondo quanto riportato da MCU Exchange, la produzione e le riprese della terza stagione della serie avranno inizio il 15 di ottobre 2017 e proseguiranno fino al 30 giugno 2018.
Sembra quindi che per goderci finalmente le nuove puntate contenenti le vicende della vita di Matt Murdoch e del suo alter-ego dovremmo aspettare ancora un po'.
Nel frattempo abbiamo avuto modo di vedere Charlie Cox vestire i panni di Matt Murdoch in The Defenders, il crossover che come già anticipato ha unito i quattro supereroi più disperati della Marvel in una battaglia senza precedenti per le strade di New York.
Se avete visto la serie, saprete che il ruolo di Matt è stato molto importante, soprattutto per quanto riguarda proprio l'epilogo della battaglia tra i Defenders e La mano. Qui i dettagli su come questo finale potrebbe ripercuotersi nella terza stagione di Daredevil.
Il cast della terza stagione oltre al già citato Charlie Cox comprenderà i volti noti di Deborah Ann Woll nei panni di Karen, Elden Henson nel ruolo di Foggy, Elodie Yung che sarà ancora Elektra e Rosario Dawson (Claire).
Restiamo in attesa della data ufficiale del rilascio della terza stagione!