Chris Noth sta per tornare in TV, sempre fedele al piccolo schermo che ha consacrato la sua fama grazie a The Good Wife e sopratutto al ruolo di Mr. Big in Sex and the City.
Il noto attore ha accettato l'offerta per entrare nel cast di Gone, il nuovo procedurale tutto Americano di Matt Lopez (L'Apprendista Stregone).
L'attore vestirà i panni di un agente dell'FBI, Frank Booth, e come i fan più accaniti sapranno, Noth aveva già rivestito un ruolo "poliziesco" in Law & Order – I due Volti della Giustizia, dove interpretavano il detective Mike Logan.
Questa nuova Serie Tv andrà in onda tra la fine del 2017 e l'inizio del 2018 con un primo ciclo di 12 episodi, e sarà trasmessa sulla francese TF1 e la tedesca RTL.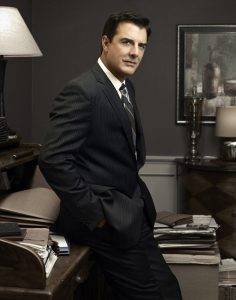 Basata sul romanzo di Chelsea Cain One Kick, la storia di Gone ruota attorno a Kit 'Kick' Lannigan, una giovane donna vittima di un rapimento. A sottrarla dalle mani del suo aguzzino era stato proprio Frank Booth interpretato, come abbiamo già detto, da Chris Noth.
La giovane, ripresasi dall'evento traumatico, ha imparato a maneggiare le armi da fuoco ed è diventata campionessa di arti marziali.
Scoprirà poi che la porta che la collegava con il mondo dell'anno malavita non è ancora stata chiusa: Booth, infatti, la convincerà ad unirsi a un anno task force speciale che lui stesso ha creato per risolvere casi di rapimento minorile.
La sua esperienza personale e la sua conoscenza diretta e unica della mente di un rapitore porterà un quid in più alla squadra.
Lopez sarà anche il produttore esecutivo della Serie Tv  insieme con JoAnn Alfano e l'ex produttrice esecutiva di Dexter Sara Colleton.
Uno show da brividi che ci condurrà  alla conoscenza delle menti più malate e infime in tutti gli Stati Uniti.
Riuscirà Chris Noth, l'ex Mr. Big a sconfiggerli? Noi crediamo proprio di sì!