Black Mirror sta tornando con i suoi episodi da horror. La serie antologica di Netflix verrà rilasciata con la sua quarta stagione, composta da sei episodi.
La data di ritorno di Black Mirror non è stata ancora confermata. Il primo trailer, rilasciato recentemente, ci ha dato un breve ma intenso assaggio di che cosa dovremmo aspettarci dalla nuova stagione. Netflix ha deciso di rendere note le prime due (sì, purtroppo così poche) immagini dei nuovi episodi.
La prima proviene dall'episodio USS Callister che, come si può facilmente intuire, richiama all'universo di Star Trek sia per l'ambientazione su un'astronave, sia per le divise indossate dai membri dell'equipaggio. L'episodio è stato diretto da Toby Haynes, che nel suo curriculum vanta collaborazioni con Sherlock e Doctor Who. Nel cast troviamo Jesse Plemons (Friday Night Lights, Fargo), Cristin Milioti (How I Met Your Mother),  Jimmi Simpson (Westworld), Michaela Coel (Chewing Gum) e Billy Magnussen (American Crime Story).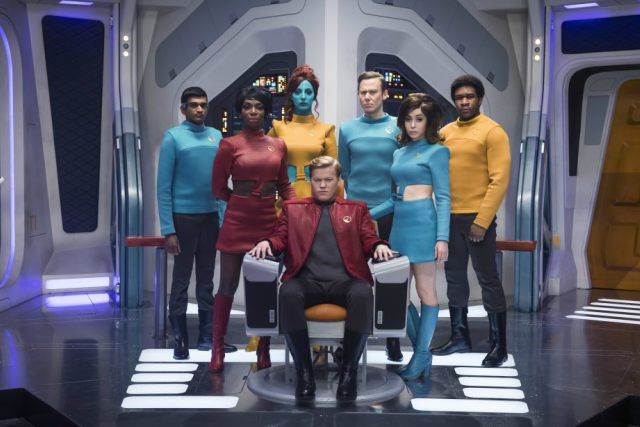 La seconda immagine rilasciata è dell'episodio Arkangel e, dall'ambientazione, ci fa ipotizzare che sia collegato all'universo della medicina. L'episodio è stato diretto dall'attrice e regista Premio Oscar Jodie Foster. Nel cast vedremo Rosemarie Dewitt (The Last Tycoon), Brenna Harding (Secret City) e Owen Teague (Bloodline).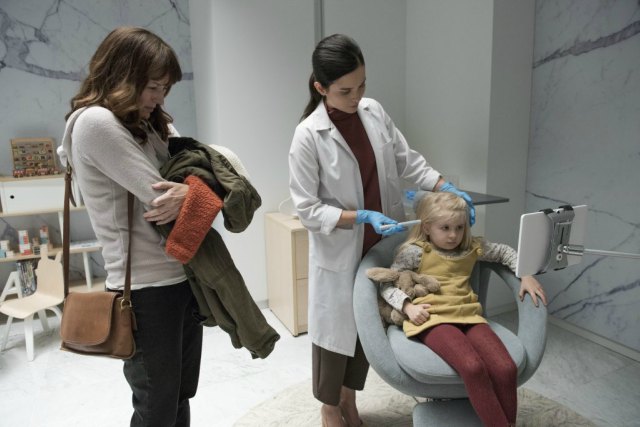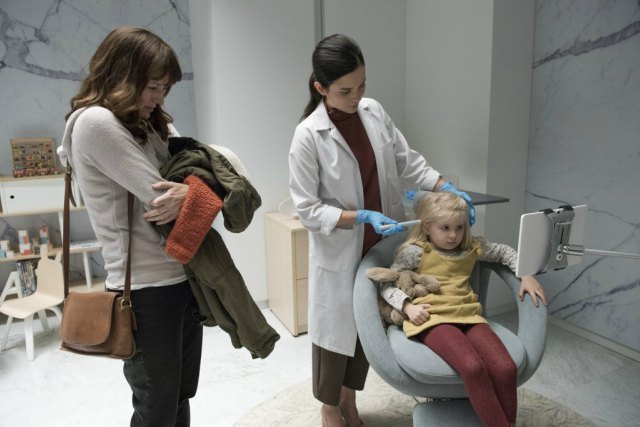 Purtroppo degli altri episodi non sono state rilasciate immagini, ma abbiamo informazioni sui titoli e il cast.
Metalhead: sarà una storia in bianco e nero di una donna che affronta un robot. Regista dell'episodio è David Slade (Hannibal) e Maxine Peake (Shameless UK) sarà nel cast.
Hang the DJ: diretto da Tim Van Pattern (che ha lavorato a Game of Thrones), l'episodio ha come protagonisti Georgina Campbell (Broadchurch) e Joe Cole (Peaky Blinders) nei panni di una coppia. Nel cast di questo episodio ci sarà anche l'attore George Blagden (Athelstan in Vikings).
Black Museum: l'episodio avrà protagonisti  gli attori Letitia Wright (Humans) e Douglas Hodge (Penny Dreadful).
Crocodile: con gli attori Andrea Riseborough (Bloodline) e Andrew Gower (Outlander).
Speriamo di poter vedere al più presto altre immagini e… i nuovi episodi, ovviamente!