Sembra che ci sia una nuova e strana coppia in città, secondo le ultime indiscrezioni, infatti, il più famoso investigatore, Hercule Poirot nato dalla penna di Agatha Christie nonché protagonista della longeva serie TV andata in onda dal 1989 al 2013, e Doctor Who potrebbero incontrarsi e nessuno sa cosa succederà.
Certo, un misterioso cross over, che porterà David Suchet, celebre interprete del detective, a prendere parte al decimo episodio della serie TV inglese formata dalla BBC, insieme agli altri attori: Peter Capaldi, che, come sempre, vestirà i panni del dottore e Pearl Mackie,nelle vesti di Bill, la nuova companion.
Mike Barlett, sceneggiatore di Doctor Foster, è stato incaricato di scrivere la trama dell'episodio, e secondo quanto ne sappiamo David Suchet interpreterà il misterioso Landlord, il proprietario di una casa con cui i nostri amati personaggi di Doctor Who entreranno in contatto.
Ma la vera domanda è: da che parte starà questo insolito LandLord?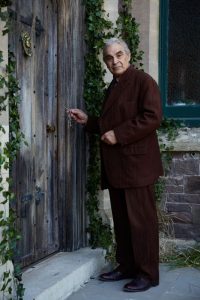 Il nostro amato Poirot ha deciso di dedicare un paio di tweet a questo suo nuovo incarico, infatti, pochi giorni fa si è dichiarato entusiasti di questo nuovo ruolo dichiarando che ha sempre desiderato partecipare nella fortunatissima e super seguita serie TV, nata nel 1963 e che ancora oggi conta milioni di fan.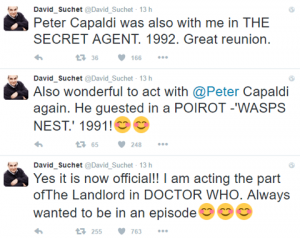 Mentre per quanto riguarda la sua collaborazione con Peter Capaldi, l'ultimo interprete del più famoso viaggiatore del tempo, ha ricordato, sempre attraverso un tweet, che i due avevano già avuto occasione di lavorare insieme su un set, in particolare quello di The Secret Agent, show composto da tre episodi di 55 minuti l'uno, prodotto nel 1992 dalla BBC, la cui trama era stata tratta dall'omonimo romanzo di Joseph Conrad, pubblicato nel 1907.
Non ci resta che aspettare il 2017 per poter assistere a questa nuova avventura di David Suchet, che, come vogliamo ricordare, abbiamo già visto in alcune apparizioni in Hidden, Ultime Speranze e Hallow Crown, per quanto riguarda il piccolo schermo, mentre al cinema in Effie Gray- Storia di uno scandalo- del 2014, tra gli altri.
Inoltre, anche Ralf Little, già apparso in The Royal Family, prenderà parte a questa decima stagione insieme a Matt Lucas, che aveva già debuttato nello speciale natalizio The Husbands of River Song del 2015 e che apparirà nella premiere dello show scritta da Steven Moffat, showrunner alla sua ultima stagione, dopo aver lavorato alle vicende del dottore per ben sette anni.
Non ci resta che aspettare il Tardis e partire per questa nuova e strabiliante decima stagione!