Rilasciata la data della premiere: American Gods, l'attesissima serie tratta dal bestseller di Neil Gaiman, debutterà il 30 Aprile sul network Starz.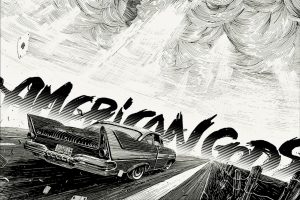 Lo show è liberamente tratto dall'opera fantasy di Neil Gaiman, che fra i numerosi successi editoriali (Sandman, Coraline) vanta la sceneggiatura di due episodi di Doctor Who (The Doctor's Wife e Nightmare in Silver).
Ed è l'autore stesso, insieme agli showrunner Bryan Fuller (Hannibal, Pushing Daisies) e Michael Green (The River, Heros), ad aver prodotto la serie American Gods che già da molti anni aspettava di vedere la luce.
Già da tempo era noto l'incredibile cast di American Gods, tra cui compare Ricky Whittle (Mistresses, The 100) nei panni del misterioso protagonista Shadow Moon, affiancato nel ruolo dell'affascinante ed enigmatico Mr.Wednesday da Ian McShane (Deadwood, I pilastri della Terra).
Inoltre Emily Browning (Legend) interpreterà Laura Moon, moglie del protagonista. Il cast comprende anche Gillian Anderson (X-File) nel ruolo di Media, Pablo Schreiber (Orange is the new black) sarà Mad Sweeney, Jonathan Tucker(Kingdom) interpreterà Low Key Lyesmith, Peter Stormare (Arrow) sarà Czernobog.
Shadow Moon incontrerà divinità antiche e misteriose ed altre più moderne e subdole. Faranno la loro apparizione anche personaggi creati appositamente per la serie TV e che non trovano riscontro nell'opera cartacea. Come il Dio Vulcano interpretato da Corbin Bernsen (Psych), un vecchio alleato di Mr. Wednesday che si è ritagliato una vita confortevole nel nuovo mondo. O Jeremy Davies (Lost) che sarà Jesus, Figlio di Dio, intento a scontrarsi con l'antica dea Easter, interpretata da Kristin Chenowet, per la condivisione delle festività pasquali.
Aspettiamo con ansia il 30 Aprile per vedere cosa ci riserverà il titanico scontro tra vecchie e nuove divinità per la conquista dell'anima stessa dell'America.
Nell'attesa possiamo vedere nuovamente il trailer di American Gods rilasciato ormai più di sei mesi fa.