Come vi avevamo annunciato Netflix sta puntando tutto sulla prossima Serie Tv di fantascienza: Altered Carbon. Si basa sul romanzo omonimo del 2002 di Richard K. Morgan. La Serie sarà divisa in dieci parti, si svolgerà in un futuro cyberpunk noir, in cui le personalità umane possono essere memorizzate digitalmente e scaricate in nuovi corpi.
Questo video non fa altro che suggerirci che Netflix potrebbe aver partorito un altro gioiellino. "Building the world of Altered Carbon" è pieno di nuove informazioni che offrono ai potenziali spettatori un'idea migliore di ciò che gli aspetta. Principalmente, però, si occupa di questi piccoli dispositivi simili a dischi rigidi su cui viene scaricata la totalità della coscienza di un essere umano, e quindi inseriti in un nuovo corpo, vicino alla base del cranio.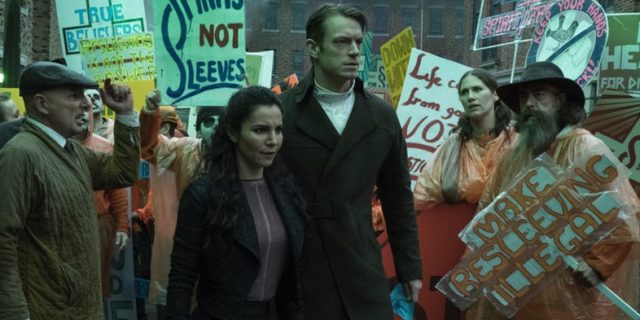 È come una vertebra in più che solo che quest'ultima contiene tutte le conoscenze della mente umana. Ma c'è di più, qualcosa che va oltre le domande filosofiche di una persona "digitalizzata" che vive in un corpo non suo. Per chiarire questo punto, il video invita le star della serie Joel Kinnaman e Will Yun Lee a spiegare come stanno giostrando diverse versioni dello stesso personaggio, Takeshi Kovacs.
Gran parte del marketing finora si è concentrato sul soldato resuscitato di Kinnaman e sul compito che gli è stato affidato da Laurens Bancroft (interpretato da James Purefoy) di rintracciare i suoi potenziali assassini. Questa volta, però, ci viene presentato l'uomo che era prima. Lee spiega perché il suo personaggio è noto come "Birth Kovacs" e fornisce un piccolo spaccato del suo stato d'animo una volta che scopre di essere risorto nel corpo di Joel Kinnaman.
Kovacs era così categoricamente contrario all'idea della coscienza digitalizzata e dell'immortalità che inevitabilmente cercherà di usare l'indagine sul tentato omicidio di Bancroft come una scusa per riprendere i suoi vecchi modi.
Altered Carbon ci aspetta il 2 febbraio 2018 su Netflix e non vediamo proprio l'ora!