# #
Eccoci qui! Nuova settimana, nuovo episodio di New Girl! La narrazione procede a gonfie vele e noi siamo sempre più innamorati del contesto e dei protagonisti. La puntata intitolata "Single and Sufficient" è letteralmente volata, come tutti i venti minuti che guardiamo ogni volta. Il titolo è abbastanza esplicativo, ma vediamo dove voleva andare a parare.
# #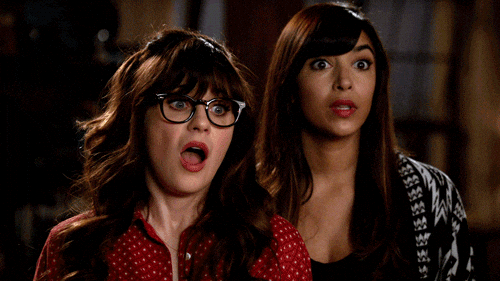 La terza puntata di New Girl si prende un momento e lascia spazio al percorso particolare che sta percorrendo la vita amorosa di Jessica Day.
Una puntata priva di risate? Assolutamente no, ma non è stata esilarante ai livelli delle prime due. Non è assolutamente un male: dalla fine della quinta stagione non abbiamo capito chiaramente lo stato d'animo della ragazza acqua e sapone. Sovrastata dall'affetto degli amici e dalle bizzarre vicende a cui assiste di continuo, Jess non ha ancora espresso a pieno ciò che prova. Grazie ad un campeggio di lusso organizzato dagli amici Schmidt e Cece, Jess si accoda con tutto il gruppo di single che ha conosciuto. Fermi, fermi tutti. Quale gruppo di single?
Anche Winston sarà dei loro, insieme alla sua Aly che torna a casa. L'unico escluso sarebbe Nick Miller. Perché non invitarlo? Jess è sola, può farle compagnia. E invece… Deve finire di scrivere il suo libro e la ragazza ha la compagnia di tanti amici single. Cece e Schmidt non sono esattamente su di giri per l'arrivo di questo numero gruppo di persone sconosciute, ma faranno il sacrificio.
# #
Ma Jessica Day ha spiazzato un po' tutti. A quale amici single si sta riferendo? Potrebbe esserci qualcuno che le faccia dimenticare Nick? Sarebbe positivo per lei, ma noi non vogliamo, deve combattere per il suo Miller e vincere contro Miss Universo Reagan. Dunque, è arrivato il momento conosciamo questi tipi. Il fondatore è una nostra vecchia conoscenza: Robbie, uno degli ex dell'amica Cece, ha ben pensato di creare un gruppo di single che possano affrontare la vita da soli.
Il loro motto è "I'm Single and I'm Sufficient", carino niente da dire. Ma c'è un problema, incitano le persone ad entrare in un club il cui motto è l'estensione dell'acronimo ISIS?!
Ma da un tipo come Robbie e da membri come Jess e il preside della scuola, che cosa possiamo aspettarci in fondo. Schmidt e Cece affrontano la vacanza da felici sposini ma ogni loro attività, come una semplice vista mozzafiato, è interrotta da donne e uomini single che tentano di godersi la vita. Quelli che non se ne curano minimamente e come motto hanno "non ti curar di loro ma guarda e passa" sono Aly e Winston. Sono troppo presi dal recuperare il tempo perduto che tutti gli altri sembrano quasi inesistenti.
Quanto ci ha fatto ridere la scena a cavallo? Ad ogni modo Jess è sicura di poter vivere felicemente da sola senza dover avere il pensiero fisso su un uomo come Nick Miller. Schmidt, invece, è fermamente convinto che prima o poi tutti cedono all'amore, come accade improvvisamente a due membri del gruppo mentre sono intenti a divertirsi in acqua. Robbie li separa e cerca di non farli cadere nuovamente in tentazione.
Ma intanto, Nick cosa starà combinando da solo a casa? Schmidt ha letto la prima parte del suo libro e lo ha amato. E' tornato Julius Pepperwood e le sue avventure, e Schmidt le ha amate.
Questo dovrebbe riempire d'orgoglio Nick, ma invece subisce le batoste di un effetto contrario. Non riesce a proseguire con lo scrivere, ha bisogno degli appunti, di qualcosa da correggere. Allora chiede a Winston. Quest'ultimo intento a coitare con l'amata più e più volte sembra non avere tempo per Nick, ma Aly lo convince che può risultare sexy vedere Winston in vesti da lettore. Così leggono la storia e non hanno nulla da criticare. Nick Miller è nel panico più totale.
Ma torniamo al campeggio di super lusso e a Jessica Day. Sembra che qualcosa leghi lei e Robbie, e Schmidt se ne rende conto. Istiga l'amica, le fa notare che l'amore si respira nell'aria, ovunque. Jess ama l'amore, non l'ha mai negato, ma ha bisogno di concentrarsi su se stessa. Robbie inevitabilmente nota l'alchimia durante una canzone intorno al falò. Lui e Jess si sono trovati a duettare piacevolmente e gli sguardi di intesa sono visibili a tutti, principalmente ai due amici che conoscono bene Miss Day.
Robbie confessa di provare qualcosa per lei. Jess si mette lo zaino in spalla e preferisce allontanarsi dal ragazzo. Nella sua mente e nel suo cuore ci sono solo due nomi: Nick e Miller. Ne parla nuovamente con gli amici Cece e Schmidt e ammette che finché ha lui tra i pensieri non può distrarsi in altri modi.

Aly e Winston invece si confessano vicendevolmente che ne hanno abbastanza del sesso per quel giorno. Non possono recuperare mesi in poche ore. Nick Miller aggiunge un personaggio alla storia, molto vicino al protagonista Julius. Sembra essere molto, MOLTO, somigliante all'amico Schmidt, in tutto, anche nel cognome. Lo fa per ripicca, ma magari può essere davvero la spalla del personaggio che viene tanto amata dai lettori.
Il finale dà spazio a tante teorie riguardo all'inizio di qualcosa tra Robbie e Jess. Si trovano casualmente in un locale, Robbie vorrebbe lasciarle il tavolo per non starle davanti ai piedi, ma la ragazza lo invita a restare mentre sarà intenta a leggere il racconto di Nick Miller. Che Robbie sia l'uomo che le farà dimenticare il coinquilino? VI PREGO NO. Robbie è simpatico, davvero, mi piace molto. Ma Day e Miller sono destinati a stare insieme.
Alla prossima! E ringrazio le pagine Nick e Jess  New Girl Italy, New Girl (Italia) e New Girl ϟ It's Jess.!