Kate Mulgrew ci racconta Red e quello che spera succederà alla sua carriera in futuro
E' stata da poco rilasciata la quinta favolosa stagione di Orange is the new black e una delle principali nonché tra i più amati personaggi ha colto l'occasione per fare un po' il punto della sua carriera e del suo personaggio più recente, Red.
Siamo parlando della rossa Kate Mulgrew che interpreta il ruolo di Red, appunto, una detenuta russa molto determinata a cui è ben difficile mettere i piedi in testa.
Nota nella serie come la 'capo cuoca' per eccellenza, l'abbiamo vista poco in cucina nelle ultime puntate ma Kate rassicura i fan, anche fuori dal set sembra essere una chef convinta, pare che in Irlanda prepari dell'ottimo pollo!
Non è solo la cucina a legarla molto al personaggio interpretato in Orange is the new black; sembra infatti che il temperamento e la scorza dura di Red l'accompagnino anche nella vita di tutti i giorni.
Si definisce infatti 'determinata' ed 'organizzata', forte, forgiata dall'essere stata la più grande di 8 fratelli. Insomma, il capobranco è un ruolo che le appartiene per natura!

Nonostante questi skill, la quinta stagione è stata decisamente la stagione più difficile per lei, l'abbiamo vista per la prima volta in difficoltà nel disperato tentativo di rivalsa sul peggior 'villain' visto in OITNB finora: Piscatella! Questo scontro tra titani ha fatto emergere le sue debolezze ma dannazione, l'ha scalfita, non spezzata! (Come è andata lo lascio giudicare a voi, non mi dilungherò con dell'inutile spoiler?)
Cosa ha in programma per il futuro la nostra Red?
Sembra che abbia un sogno nel cassetto, un ruolo in una nota serie BBC: Peaky Blinders, in uscita a luglio con la quarta stagione! E pare proprio che abbia le idee ben chiare su quale vorrebbe sia il suo personaggio: il capo dell'Ira!
Sarebbe davvero un colpo grosso per la sua carriera e un meraviglioso spettacolo per noi spettatori che non vedremmo l'ora di una bella competizione con i fratelli Shelby e Zia Polly!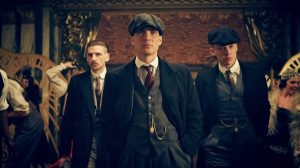 Speriamo che la BBC ascolti la sua richiesta e chissà che la quinta stagione di Peaky Blinders non ci regali qualche bella sorpresa! Il cast non manca di grandi nomi Cillian Murphy e Tom Hardy è stato per la quarta stagione pensato un ruolo anche per Adrien Brody.
Per ora non ci resta che goderci la quinta stagione di Orange is the new black, ora in streaming su Netflix 😀