Stiamo entrando nel vivo di Giugno: un mese caldo che ci porterà dritti alla stagione delle piogge di Widen con Dark 3, previsto per la prossima settimana su Netflix. Da oggi e per i prossimi sette giorni ci attendono viaggi inesplorati dalla seconda stagione di The Order a The Politician. Siamo pronti a tutto, partiamo con il catalogo settimanale di Netflix.
Lunedì 15 Giugno
Dunkirk
John Rambo
Mercoledì 17 Giugno
Mr. Iglesias – seconda stagione
Giovedì 18 Giugno
Miyo – Un Amore Felino – anime/animazione
The Order – seconda stagione
La seconda stagione mostrerà probabilmente i Cavalieri che stanno lentamente recuperando i loro ricordi, anche se può essere difficile considerando che l'Ordine ha confiscato tutti i loro libri magici e gli strumenti. Jack, in particolare, avrà molte difficoltà a orientarsi, considerando che non ha più una famiglia dopo che suo nonno è stato ucciso da Coventry nel finale della prima stagione. Più o meno, l'unica speranza per Jack è che Alyssa Drake, che ha confessato il suo amore per lui pochi istanti prima di cancellargli la memoria, possa cambiare idea e contribuire a curare la sua amnesia.
Ritorneranno nella serie: Jake Manley, Sarah Grey nel ruolo di Alyssa Drake, Adam DiMarco nel ruolo di Randall Carpio, Katherina Isabelle nel ruolo di Vera Stone, Max Martini nel ruolo di Edward Coventry, Thomas Elms nel ruolo di Hamish Duke, Devery Jacobs nel ruolo di Lilith Bathory, Louriza Tronco nel ruolo di Gabrielle Dupres, Aaron Hale nel ruolo di Brandon e Jedidiah Goodacre nel ruolo di Kyle.
Feel the beat – film originale
Il nuovo film di Netflix parla di April, un'aspirante ballerina di Broadway "egocentrica", che viene bandita dalle scene dopo aver saltato il provino. Con la sua carriera sabotata, segue i consigli del padre e torna nella sua piccola città natale, il Wisconsin. Una volta lì fa del suo meglio per evitare tutti, anche il suo primo amore Nick. Tuttavia, il destino non è esattamente dalla sua parte, perché attira l'attenzione del suo ex insegnante di danza al supermercato. Viene reclutata per insegnare a ballare, in tempo per una grande competizione che dura solo due settimane. April pensa di aver trovato ancora una volta il suo biglietto per Broadway, ma lungo la strada si rende conto di aver guadagnato molto di più.
Nel cast: Sofia Carson, Wolfgang Novogratz, Donna Lee Champlin, Rex Lee, Brandon Kyle Goodman, Lidya Jewett, Sadie Lapidus, Johanna Colón, Shaylee Mansfield, Shiloh Nelson, Justin Allan, Carina Battrick, Kai Zen, Eva Hauge, Marissa Jaret Winokur e Enrico Colantoni.
Venerdì 19 Giugno
La cosa più bella – seconda stagione
Nella seconda stagione torna Malu (Maria Casadevall). Rimane ancora la donna determinata, una madre devota e un'amica fedele, che abbiamo incontrato nella prima stagione. Ora non trova più scuse, vive la vita senza filtro e senza freni. Poi c'è Thereza (Mel Lisboa) che sceglie di dedicare la sua vita a prendersi cura della sua famiglia e della sua casa. Ma ben presto si rende conto che le manca un altro tipo di realizzazione: il lavoro, che trova in un canale radio. E tante altre storie in arrivo per questa seconda stagione.
The Politician – seconda stagione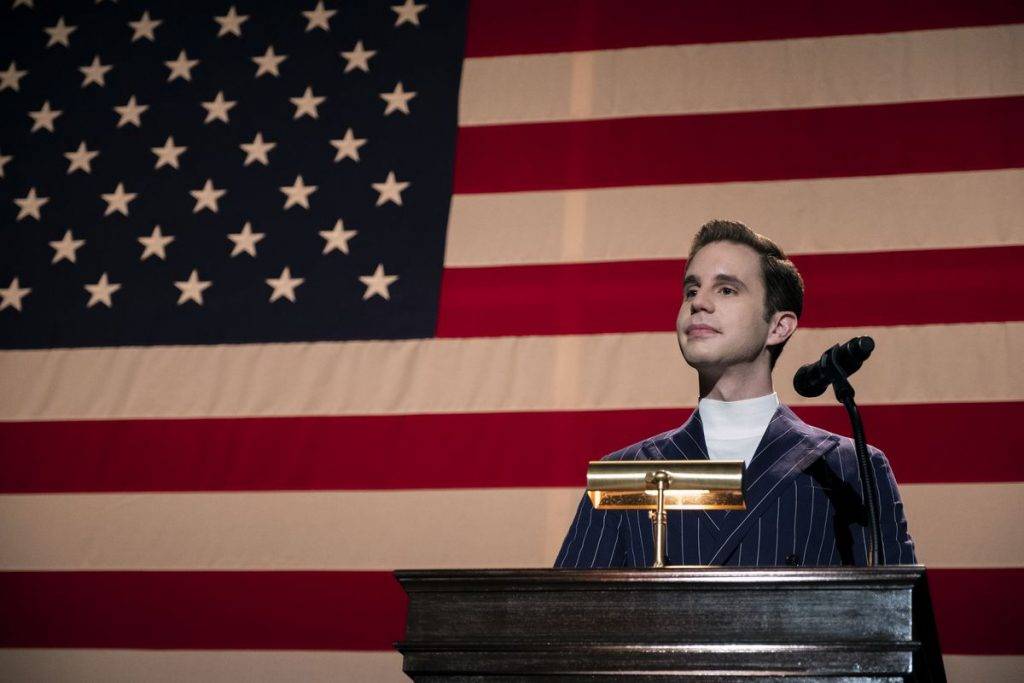 La seconda stagione vedrà Payton cercare di disarcionare Dede, la cui rielezione doveva essere facile, e il ragazzo dovrà decidere che tipo di politico vuole essere. Ma anche sua madre Georgina Hobart (Gwyneth Paltrow) prenderà una decisione importante che minaccia di mettere in secondo piano lui e tutto quello che ha fatto. Votate per Payton!
Purtroppo per i fan della serie di Ryan Murphy questa seconda stagione non presenterà tanti momenti musicali così come era successo nella prima.
Proiettile Vagante – film originale
Lino è un mago della meccanica fino a quando non viene arrestato per una rapina finita male. Il capo di un'unità speciale di polizia antidroga gli ha offerto un accordo per evitare il carcere. Nove mesi dopo, Lino ha definitivamente dimostrato il suo valore. Ma, essendo stato accusato ingiustamente di omicidio, non ha altra scelta se non quella di trovare l'unica prova della sua innocenza: il proiettile del delitto, alloggiato in un'auto scomparsa.
Wasp Network – film originale
Padre, soldato, figlio – documentario originale
Bebe': viaggio nel primo anno di vita – documentario
Floor is Lava – stand up comedy/reality
La Cittadina Canterina – anime/animazione
Domenica 21 Giugno
Suits – ottava stagione parte 2
Cosa state aspettando con più impazienza? Fatecelo sapere nei commenti!