Sbarcherà domani sui nostri schermi ed è destinata a lasciarci qualcosa d'importante fin da subito. Parliamo ovviamente di Marseille, la nuova mini-serie televisiva di Netflix, la prima serie francese originale del colosso streaming americano e la vera e propria apripista per una serie di produzioni oltreoceano previste per i prossimi mesi: dall'inglese The Crown, attesissimo film sulla vita della Regina Elisabetta II, al tedesco The Dark fino ad arrivare al nostro turno con Suburra, trasposizione in serie del film di Stefano Sollima che ha riscosso un enorme successo e che punta a ripetere quelli già ottenuti da Romanzo Criminale e Gomorra, entrambi prodotti da Sky.
Il cast di Marseille è d'eccezione e quasi interamente locale, nel quale spicca senza dubbio il grande Gérard Depardieu nel ruolo del protagonista Robert Taro, il sindaco della città negli ultimi vent'anni che prima di abdicare vuole lasciare con un ultimo colpo da biliardo: la costruzione di un casinò nel centro storico della città. Ad ostacolare i suoi piani ci penserà il suo successore designato, nonché suo ex-protetto, Lucas Barrès, interpretato da un altro grande attore del cinema francese, Benoit Magimel (La Pianista). Il cast è senza dubbio importante e di qualità e chi ama la filmografia francese sicuramente conoscerà attori come Géraldine Pailhas (Don Juan De Marco con Johnny Depp), Nadia Farès (I fiumi di porpora e l'italiano Poliziotti con Claudio Amendola e Kim Rossi Stuart), Gérard Meylan e Hyppolyte Girardot, presente tra gli altri anche in Caos Calmo di Nanni Moretti. L'ideatore di Marseille è Dan Franck, mentre in cabina di regia si sono alternati per 4 episodi a testa Florent Siri (Cloclo), anche Executive Producer della serie, e Thomas Gilou.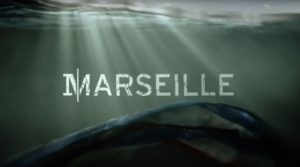 Marseille è stata indicata da molti come la "House of Cards francese" ma sembra essere più un tentativo di attirare i fan di Frank Underwood ad appassionarsi anche a questo drama d'oltralpe più che un reale termine di confronto fra due prodotti a nostro avviso comunque molto diversi. Anche perché questa è, al momento, una mini-serie a tutti gli effetti, contando appena 8 episodi e ancora con l'incertezza se sfocerà in una 2° stagione o se oppure terminerà con questa unica prima stagione che Netflix rilascerà globalmente domani, Giovedì 5 Maggio.
La trama svelata fino ad ora invoglia senza dubbio lo spettatore ad aspettarla con ansia. Gli intrighi politici e del potere (termine tanto amato proprio in HoC) saranno senza dubbio il tema principale della Storia, con il sindaco Taro che cercherà di chiudere in bellezza un ventennio di potere e con il suo alter-ego, nonché possibile successore designato, Barrès, a mettergli i bastoni tra le ruote. E che, a sua volta, scoperchierà diversi interessi nascosti tra i potenti della città che daranno vita a duelli interessanti e ricchi di colpi di scena.
Non vogliamo e non possiamo svelarvi altro, anche perché Netflix è stata abbastanza avara di notizie. L'unica cosa che possiamo assicurarvi e che torneremo a parlare di Marseille in una recensione nelle prossime settimane. Nel frattempo, non ci resta che aspettare domani e gustarcela tutta d'un fiato!
Paolo Martina