Netflix, santo Netflix. Paragonabile allo spazzolino da denti per noi addicted seriali. Quello strumento che ormai usiamo tutti i giorni quasi senza rendercene conto. Vi siete mai interrogati sulle sue origini? Ne conoscete la storia? Oggi vogliamo deliziarvi con un viaggio che svela i segreti più segreti dietro alla rivoluzione delle nostre abitudini seriali.
Preparatevi perché rimarrete stupiti!
Torniamo indietro nel tempo.  A vent'anni fa, per la precisione. Quando Netflix era solo una vaga idea nella mente dei suoi creatori. Reed Hastings e Marc Randolph in realtà facevano tutt'altro. Nel 1997 erano rispettivamente un matematico smanettone ed il direttore Marketing di una ditta ad Hastings. Si incontrarono quasi per caso, durante un regolare viaggio da lavoratori pendolari. Decisero di buttarsi nel mondo del caro e vecchio DVD. All'epoca questo supporto non era affatto vecchio, anzi era stato lanciato solamente nella primavera dello stesso anno. Così il 29 Agosto 1997 NetFlix (sì con la F maiuscola) prende ufficialmente vita. Una compagnia che in origine aveva lo scopo di recapitare a casa degli utenti i DVD dei film, disponibili all'ordine in base al catalogo. Le videocassette sarebbero state presto dimenticate e i due ci avevano visto giusto, anzi giustissimo. Hastings e Randolph spiegarono così i motivi della loro scelta di business.
"Vi sembra possibile pagare 40$ di multa per aver riportato in videoteca una cassetta di Apollo 13 in ritardo?"
La fine degli anni Novanta è stato senza dubbio l'apice del successo per il colosso Blockbuster. Netflix entrò sul mercato come suo diretto rivale. Anche se il lancio ufficiale risale al 14 Aprile 1998, bastarono due anni per trasformarlo in un impero. Nel 2000 ad Hastings e Randolph vengono offerti 50 milioni di dollari, CINQUANTA MILIONI DI DOLLARI, per essere acquisiti, proprio da Blockbuster. Loro rifiutarono e continuarono per la strada che avevano creato per il loro progetto. Netflix si era già in ogni caso evoluto per fidelizzare maggiormente i suoi clienti: a partire dalla fine del 1999 ci si poteva abbonare ad una cifra fissa per comprare DVD illimitati senza costi aggiuntivi di spedizione. Il punto di forza, ciò che ha permesso a questa piattaforma di esistere ancora ai giorni nostri, è stato rimanere sempre al passo con i tempi.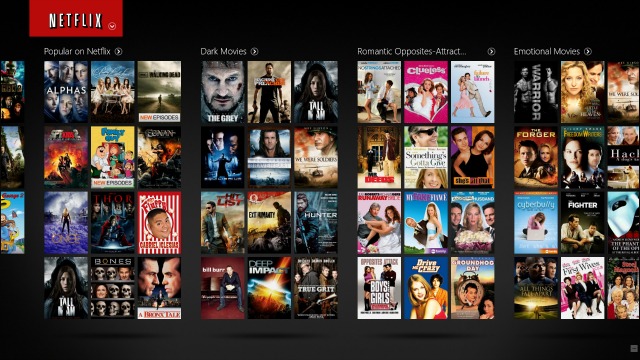 Netflix è stata in grado di adattarsi come un camaleonte alle nuove esigenze di mercato. Ma non finisce qui…
Nel 2007 infatti fu introdotta un'altra grandissima novità: gli utenti abbonati potevano usufruire di un servizio video in streaming. Insomma, solo dieci anni fa nasceva Netflix come lo conosciamo noi ancora oggi. L'espansione sia a livello di numeri che di paesi coperti continuava. Vi diamo due cifre per farvi capire di cosa stiamo parlando. Alla fine del 2012 risultavano 25 milioni di utenti statunitensi iscritti. Solamente un anno dopo quella cifra aveva raggiunto i 33 milioni. Otto milioni di utenti (solo americani) in più nel giro di 365 giorni. E non stiamo parlando di qualcosa fruibile gratuitamente, ma di un servizio in abbonamento. Il successo della piattaforma è qualcosa di pazzesco. Non sarebbe lo stesso senza l'assoluta qualità di funzionamento e di prodotti offerti.
C'è però un ulteriore gradino dell'evoluzione della piattaforma preferita dai noi addicted: la realizzazione, produzione, diffusione di prodotti originali Netflix. Il primo ce lo ricordiamo tutti, vero? Nel Febbraio 2013 infatti ha fatto il suo debutto House of Cards, la Serie politica con protagonista Kevin Spacey. Pochi mesi dopo arriva anche Orange Is The New Black. Le storie del penitenziario femminile di Litchfield sono state particolarmente apprezzate dagli utenti Netflix. In una delle rare dichiarazioni rilasciate dai vertici, infatti, possiamo leggere che OITNB è stata la serie originale Netflix più guardata di sempre. Insomma, una meraviglia dietro l'altra. Duro lavoro, passione, costanza e un po' di intraprendenza ci hanno regalato una piattaforma che oggi consideriamo fondamentale nelle nostre vite. Possiamo prendere ispirazione per ambire sempre al meglio, senza avere troppa fretta.
D'altronde: Rome wasn't built in a day…. E Netflix ce lo insegna!
Passate anche dagli amici della pagina Netflix Lovers Italia