La BBC sforna un nuovo drama ambientato nell'Irlanda della Seconda guerra mondiale: My Mother & Other Strangers
My Mother and Other Strangers è una serie drama ambientata nel 1943 che vede coinvolti la famiglia Coyne e i loro vicini in lotta per mantenere una vita normale dopo che una base US Army Air Force si trova nel mezzo della loro parrocchia rurale. È la storia di una famiglia irlandese che si ritrova ad avere un base militare vicino al loro piccolo e tranquillo villaggio, ove il personaggio centrale è questa madre, Rose Coyne (Hattie Morahan), sposata con un brav'uomo, ma che desidera di più dalla sua vita. Ed è proprio un soldato americano che farà breccia nel suo cuore.
La serie si apre con un ormai anziano Francis Coyle, figlio di Rose, che ricorda quando nel '43 questa base militare si insediò nel villaggio di Moybeg, nel Nord Irlanda e come ciò scombussolò la quiete della comunità e non solo, poichè la gente del luogo era poco accogliente nei confronti dei nuovi arrivati.
Un punto d'incontro in più tra sua madre e quel soldato, il Capitano Dreyfuss (Aaron Staton di Mad Men), che dovranno cooperare per far sì che le due realtà (villaggio – base militare) coesistano in questi tempi di crisi.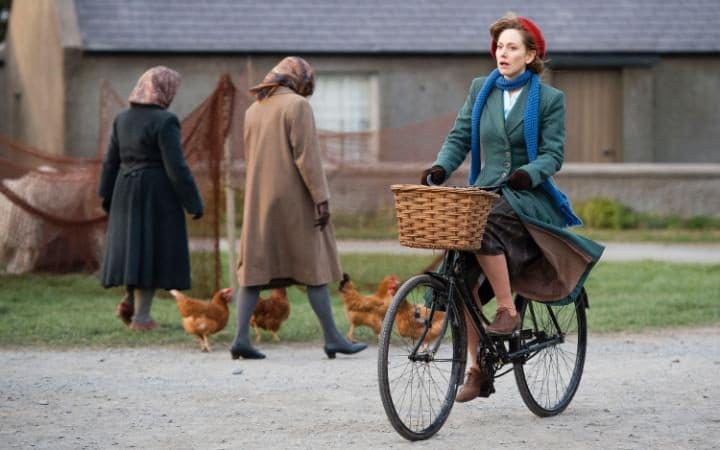 Come si può ben capire, il tema centrale di My Mother and Other Strangers è l'amore, con tutte le sue complicanze. Ma non solo.
Si parla anche di empatia verso qualcuno che si trova nella stessa situazione di "emarginato" da una comunità. Di fatti non mancheranno espliciti avvisi a Rose sul lasciare la cittadina e ritornare da dove era venuta, seppur sposata con un uomo del posto.
La prima stagione composta da soli 5 episodi da 1 ora ciascuno, si è conclusa pochi mesi fa ed il finale suggerisce che c'è molto ancora da scoprire, lasciando aperta la possibilità di una seconda stagione.
Consigliata a chi piacciono storie brevi, agli appassionati di miniserie inglesi e sopratutto a chi, come me, si affida ad occhi chiusi alle produzioni BBC.
Ecco il trailer