Netflix ama le sfide e su questo ormai non c'è dubbio. Nato come un sistema di noleggio e diventato nel tempo uno dei più grossi colossi di produzione e visione di contenuti come film, serie tv e documentari, la maggior parte di essi di grande qualità, ormai è pronta anche allo sbarco nel Vecchio Continente. Non come presenza fisica, quella c'è già da diversi mesi ormai, bensì come vera e propria produzione di prodotti.
Marseille è stato l'apripista di questa nuova frontiera che prevederà, dopo la Francia, una co-produzione inglese con The Crown, che verrà rilasciato a Novembre e che sarà un drama sulla vita della Regina Elisabetta II e l'attesissima riproduzione seriale di Suburra, il riuscitissimo film di Stefano Sollima al quale si devono le due migliori serie italiane realizzate fino ad ora (Romanzo Criminale e Gomorra). Ma di Marseille, rilasciata appena un mese e mezzo fa, quasi nessuno ne parla più e sembra finita, ben presto, nel dimenticatoio. Perché? Cerchiamo di capirlo insieme.
Marseille è un political-drama della durata, breve, di 8 episodi con la presenza di spicco di Gérard Depardieu come protagonista principale. Il pluripremiato attore francese interpreta il sindaco di Marsiglia, Robert Taro, in carica da un ventennio e pronto a passare la mano al suo vice nonché designato erede Lucas Barres, interpretato magistralmente da Benoit Magimel, attore di spicco del panorama francese. Tutto sembra andare nella direzione che Taro ha previsto, con il suo pupillo-figlioccio pronto a prendere le redini della sua città e con la prossima costruzione di un nuovo Casinò nella zona del porto ormai prossima a realizzarsi. Ma, si sa, in politica nessun piano va sempre come si vorrebbe e Taro viene pugnalato alle spalle proprio dal suo vice che sfrutta il suo voto decisivo per affossare il progetto del Casinò e schierarsi definitivamente contro il suo mentore, con una sibillina frase "erano vent'anni che aspettavo questo momento".
Taro è dapprima sotto shock e tutto si sarebbe aspettato meno il tradimento del suo pupillo e amico di famiglia. Così decide di scendere sul piede di guerra e di ritornare in pista, ricandidandosi nuovamente e schierandoti contro Barres per tenersi stretta la città che ama, per la quale ha lottato, sofferto e combattuto per vent'anni. Questa lotta interna scatenerà un gioco delle parti e un continuo cambio di schieramento da parte di personaggi minori ma non per questo meno decisivi per la vita politica. Gli intrighi di Marseille non possono certo essere paragonati a quelli di House of Cards, ma il comune denominatore è la sete di potere e l'instancabile gioco delle parti dei protagonisti; in tutto questo marasma generale si infiltrerà anche la mafia marsigliese per la quale la costruzione del nuovo Casinò "non s'ha da fare" perché altrimenti i proventi delle scommesse clandestine e dei soldi prestati a strozzo si ridurrebbero drasticamente e, si sa, per la mafia, qualunque essa sia, il Business è la principale ragione di vita. La trama si infittisce nel corso degli eventi, si va dal giornalismo d'assalto alle discriminazioni delle minoranze razziali, ad omicidi e violenze, a tradimenti e gesti disperati, il tutto correlato in un infinito incrocio tra le parti che coinvolge in tutto e per tutto le elezioni amministrative della città. Questa è la trama, volutamente descritta in minima parte per noi spoilerarvi nulla e cercando, così, di invogliarvi alla visione.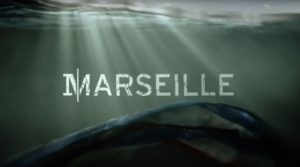 Il vizio di noi italiani, spesso e volentieri, è quello di paragonare per forza tutto a qualcos'altro. E così facendo va a finire che Marseille è la House of Cards francese, se non addirittura la Gomorra d'oltralpe. Niente di più sbagliato, quando si tratta di serie tv, nessun confronto può reggere perché ogni singolo prodotto è a sé stante. Marseille non può essere paragonata ad House of Cards per una serie molteplice di motivi: non ha un Kevin Spacey o una Robin Wright a dare ulteriore spessore al prodotto, non ha l'America e le sue controverse lotte di potere a fare da sfondo, giusto per citarne alcuni. Depardieu, sempre più ingombrante e in sovrappeso, "occupa" la scena totalmente e il suo alter-ego Marcimel, non può che essere, per forza di cose, oscurato dalla presenza del suo più famoso e premiato collega. Questo non significa che Taro e Barres non siano egregiamente interpretati, così come non lascia dubbi il fatto che ci siano delle cose che in Marseille potevano essere ampliamente migliorate, prima tra tutte una caratterizzazione maggiore dei personaggi secondari, eccezion fatta per la figlia-ribelle-giornalista Julia.
Perchè Marseille non è un capolavoro e, probabilmente, non è una di quelle serie che diventerà un cult nel corso degli anni, ma è una serie che, se vista senza paragoni o senza aspettarsi i "giochi di potere" americani, è godibile e di buon livello; è un prodotto molto vicino al tipo di televisione francese e anche i suoi ritmi più lenti e cadenzati e le numerose inquadrature dall'alto della città che intervallano alcune scene nel corso degli episodi fanno da cornice a una rappresentazione molto veritiera e vicina alla realtà francese. Nonostante il nazionalismo eccessivo dei francesi, e più nello specifico dei marsigliesi, lasci credere il contrario.