Lo ammetto, nell'immensa quantità di serie tv vecchie e nuove disponibili in rete, sino a oggi mi ero completamente persa Jane The Virgin.
O meglio, sapevo della sua esistenza e mi incuriosiva (perché pensavo fosse una specie di dramma a proposito di una ragazza dalla sessualità perversa… E in parte ci ho azzeccato, ma è complicato!), però avevo da recuperare una marea di puntate di altri telefilm e sono finita a drogarmi di Pretty Little Liars, sicché Jane The Virgin era caduta nel mio personale dimenticatoio.
Ebbene, questo articolo mi ha offerto l'opportunità di seguirne una puntata a caso (ho scelto la 1×19), così da potervi dare la mia opinione.
Mi è piaciuta? Sì e no.
E adesso vi spiego perché.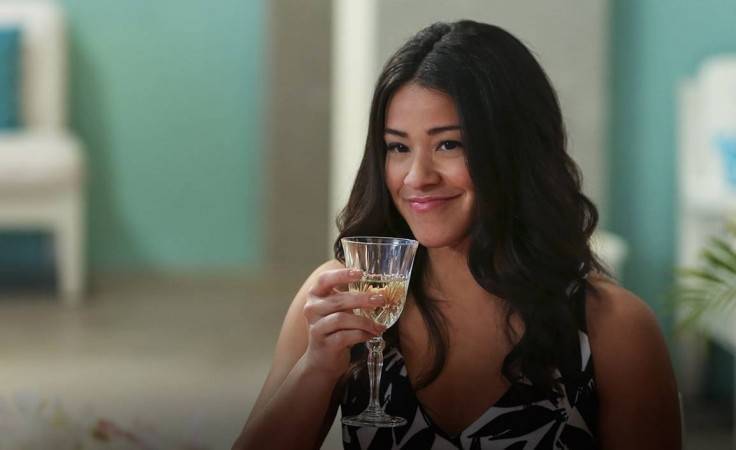 Jane The Virgin: un'idea interessante che
non mi ha conquistata
Siccome è bello che il web conceda a chiunque la possibilità di parlare di quel che non conosce, dato che ha guardato un solo episodio di una serie e per giunta nemmeno il primo, mi sembra giusto cominciare dalle cose che non mi sono andate a genio… Ovviamente scherzo, si tratta soltanto di un parere a pelle sulla storia e i personaggi, un parere che non pretende certo di esaurire tutto ciò che ci sarebbe da dire su Jane The Virgin: consideratelo come tale!
Beh, in realtà non c'è niente che proprio mi abbia fatto storcere il naso; si tratta di un telefilm particolare, fresco e colorato che cerca semplicemente di intrattenere gli spettatori toccando le loro corde emotive: non avendo seguito l'intera stagione non ho potuto cogliere molto delle sottotrame accennate nella puntata, però ho capito che la storia verte attorno a una giovinetta dal viso dolce, la quale è incinta… Ed è anche vergine. Già, perché è stata inseminata artificialmente per errore (e in seguito si è innamorata del donatore), ma non per questo ha scelto di rinunciare al proposito di restare illibata fino al matrimonio.
Nell'episodio che ho visto la troviamo alle prese con l'apparente rottura della sua relazione con il padre della bambina che aspetta, con il baby shower organizzato dalle amiche in onore della nascitura e con una psicoterapeuta di coppia che, oh dei, se non sbaglio è interpretata da Nia Vardalos, la protagonista de "Il mio grosso grasso matrimonio greco"! Che ci fai qui, Toula??
L'espediente della novella Vergine Maria, compromessa a causa di uno sbaglio umano nell'era dei miracoli della scienza, è a dir poco fantastica. Inoltre agli autori va senza dubbio il merito di aver saputo incanalare un evento tanto assurdo (la sola idea che accada nella realtà è aberrante. E possibile) in un contesto leggero quanto basta: la voce narrante accompagna con tono giocoso le disavventure di Jane, senza comunque nascondere la serietà dei sentimenti dei personaggi; le atmosfere sono calde e piacevoli, le tinte accese.
Insomma, Jane The Virgin sembra la classica serie tv che fa quasi sempre ridere e che però quando diventa triste ci costringe a versare ettolitri di lacrime. Il tutto corredato da un'intuizione geniale di fondo.
Mi ha sorpresa, affascinata ed entusiasmata… Ma non catturata abbastanza da spingermi a cliccare sull'episodio seguente.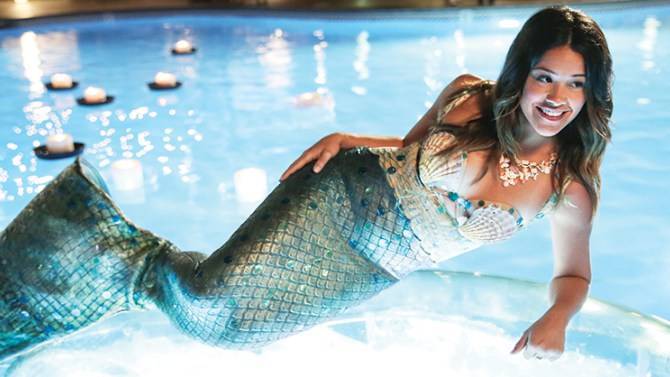 Sia chiaro, la colpa è mia: perché spesso non ho la costanza di seguire telefilm che a livello concettuale adoro, eppure non mi perdo una puntata di show oggettivamente più scadenti. Sono strana, però per indurmi ad amare una serie non bastano delle ottime premesse: deve scattare qualcosa in me durante la prima visione, quella magia che è avvenuta con Game of Thrones, Breaking Bad, The Walking Dead e le altre. E che purtroppo non si è realizzata con Jane The Virgin, almeno per il momento.
Perciò non escludo che in futuro potrò ritornare su questo telefilm, né mi sento di criticarlo in qualche modo, ma per adesso non continuerò a seguirlo. L'intento ci sarebbe, la voglia invece scarseggia.
Succede!
Un fiore schiacciato e il suo significato
Veniamo ora agli aspetti della puntata che più mi sono piaciuti.
La mia allusione a telefilm concettualmente molto validi non è stata casuale, perché secondo me Jane The Virgin offre almeno due spunti di riflessione non da poco: il primo riguarda i vantaggi e i rischi dell'inseminazione artificiale, o più che altro i rischi di un modo sbagliato di gestire questo enorme progresso della scienza.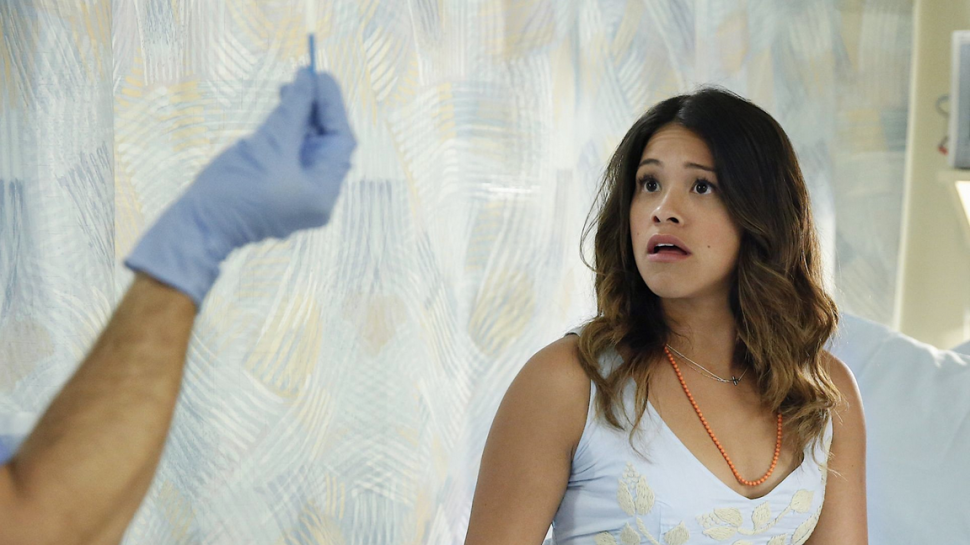 Jane vuole dirci che, come tutte le trovate scientifiche e tecnologiche, l'inseminazione artificiale di per sé non è né buona né cattiva: se usata con consapevolezza è in grado di donare un figlio a persone che a causa delle più svariate circostanze non possono generarne con il metodo naturale. Se messa nelle mani di gente distratta oppure malintenzionata diviene una mostruosità e una violenza (Jane ama la bambina che porta in grembo, ma di sicuro non l'ha desiderata, laddove il presupposto dell'inseminazione artificiale dovrebbe proprio essere un bisogno del futuro genitore).
Nella serie, l'incidente della protagonista serve a introdurre una storia carina che non pretende di fare della morale, però credo che leggere il monito tra le righe non sia così difficile.
Ritengo inoltre che questo telefilm sia latore anche di una seconda critica, se possibile ancora più pungente; me ne sono accorta nel momento in cui un'amica della nostra eroina le fa notare che se vuole continuare a restare illibata dovrà programmare un cesareo per mettere al mondo sua figlia, oppure perderà la verginità con il parto.
Non so come la situazione si sia evoluta nelle puntate seguenti, ma per quanto ho visto devo ammettere che Jane non sembra molto intelligente: perché se crede che partorendo perderà la purezza significa che considera la verginità solo un fatto fisico, e si tratta di un modo di pensare piuttosto superficiale.
Gli uomini e le donne perdono la verginità nel momento in cui scelgono di compiere quell'esperienza che li renderà diversi e li farà crescere… Una membrana che per cause mediche si lacera forse non ha così tanta importanza nel determinare lo stato mentale ed emotivo di una persona, no?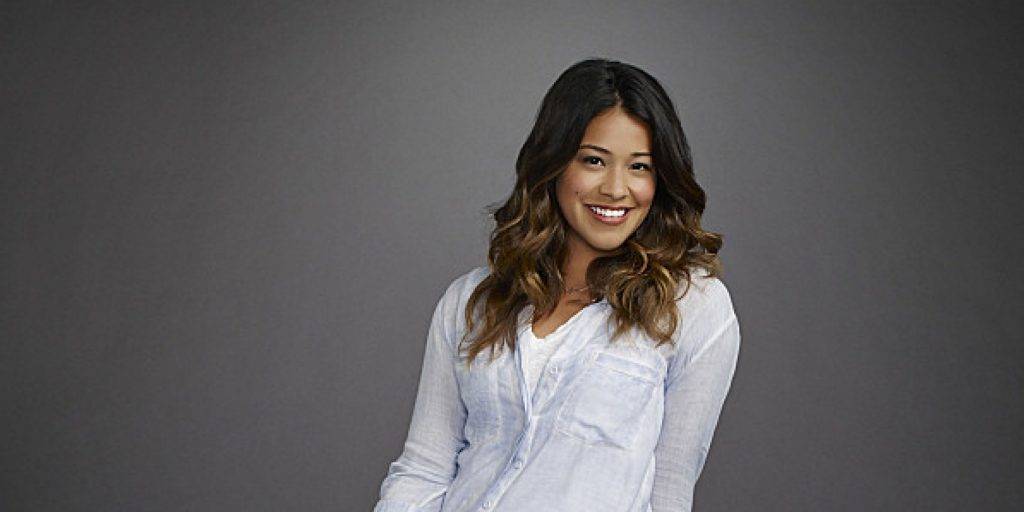 All'inizio dell'episodio compare in scena il fiore bianco che, suppongo, rappresenta il fulcro delle credenze di Jane; una volta schiacciato tra le dita, esso non torna mai più bello come prima: la protagonista evidentemente pensa che la bellezza del suo fiore debba essere accarezzata soltanto dalle mani di colui che le starà accanto per tutta la vita, e questo va bene, ma perché considerare la cosa unicamente dal punto di vista del corpo?
Jane ha una relazione stabile con un uomo, sta per diventare madre e non ha problemi a concedersi ad amoreggiamenti vari (purché non comprendano l'atto sessuale vero e proprio): di fatto è un'adulta, conosce l'amore verso un altro essere umano e ha provato le emozioni che il contatto con lui regala. Se ha donato il suo cuore a Rafael non è già più una vergine: a renderla tale resta solo quella membrana intatta, e l'idea che lei le conferisca tutta questa importanza è addirittura un po' ipocrita.
Jane stessa pare arrivare a una simile conclusione quando dice al compagno di essere pronta a unirsi a lui (sì, incredibilmente ho scelto la puntata in cui la sua determinazione a non concedersi rischia di capitolare!), però viene interrotta dall'arrivo di un estraneo e non appena il momento della passione è trascorso rimpiange di aver vacillato: il sesso non avrebbe risolto i problemi tra lei e Rafael, su questo le do ragione, ma continuo a pensare che la purezza che ritiene di conservare astenendosi dall'amore del corpo (pur avendo già assaporato quello dell'anima) sia un'illusione, o magari un sogno di gloria.
Insomma, non so davvero se Rafael sia l'uomo giusto per lei oppure un fidanzato di passaggio. So che davanti al vero amore tutti tornano vergini, perciò credo che Jane dovrebbe preoccuparsi di meno e aspettare con serenità questo grande amore, senza pensare a se stessa come a un fiore che appassisce una volta toccato. Nell'episodio che ho visto sembra non esserne ancora capace, il che è forse il motivo per cui la sua storia non mi ha conquistata.
LEGGI ANCHE
#ConsigliSeriali – Jane the Virgin: il giardino delle vergini latine
10 Serie Tv semisconosciute che dovreste assolutamente vedere
10 Serie Tv completamente assurde che dovreste assolutamente vedere