# #
Scritta e interpretata da due degli sceneggiatori e attori inglesi più talentuosi della loro generazione, Steve Pemberton e Reece Shearsmith, Inside No.9 si configura come un vero e proprio capolavoro.
# #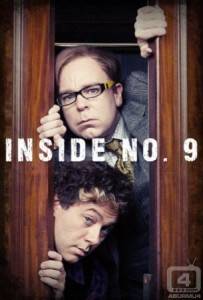 Nata come una costola di Psychoville, sempre da loro ideata e interpretata, la particolarità di questa serie è che non è affatto una serie, non nel significato che abitualmente attribuiamo a questo termine. Infatti, non c'è una trama orizzontale che si dipana nel corso degli episodi, e nemmeno protagonisti stabili di cui seguire le vicende e a cui affezionarsi.
Quindi cos'è, vi chiederete. Tecnicamente si tratta di una serie di corti, della durata di mezz'ora, che hanno un inizio, uno sviluppo e una conclusione. La storia nasce e muore in quei trenta minuti. Allora, perché è una serie? Cosa rende Inside No.9 serializzabile? Ce lo spiega il titolo: dentro il numero nove. Infatti, ogni corto (o ogni puntata, che dir si voglia) si svolge all'interno di uno spazio chiuso contrassegnato sulla porta dal numero 9. Questo spazio può essere qualunque cosa: un appartamento, il vagone di un treno, una villa, una stanza d'albergo, un camerino…
# #
Altro elemento in comune tra i vari episodi di "Inside No. 9" è il genere: la commedia nera. Questo è un genere poco noto in Italia: di base, ci si rifà a un umorismo che tratta argomenti delicati (guerra, morte, violenza, religione, ecc.) in modo politicamente scorretto. Pemberton e Shearsmith non sono nuovi a questo genere: anche il su citato Psychoville è una commedia nera e ancora di più lo è The League of Gentlemen, serie tv andata in onda dal 1999 al 2001 e scritta e interpretata assieme a Jeremy Dyson e Mark Gatiss (per chi non lo conoscesse è autore e attore di Sherlock e Doctor Who).
Naturalmente, la commedia nera non conosce il lieto fine: non sa proprio cosa sia quindi, se vi aspettate 'sole, cuore e amore', questa non è la serie che fa per voi. Perché Inside No.9 è spietato, cinico, freddo, a volte spaventoso. Ogni corto è grottesco, psicologico, thriller, horror, e tutto questo nello stesso momento. In alcuni casi – più rari – è anche di un'umanità disperata, come la puntata The 12 Days of Christine, che è entrata di diritto nella mia personale top ten degli episodi più belli mai scritti.
E questa è l'altra garanzia della serie: la qualità. Una qualità tecnica attoriale e soprattutto scrittoria. Ogni dialogo, ogni battuta, ogni singola parola è stata pensata, ragionata, soppesata, ma niente risulta forzato, anzi al contrario, sembra tutto sempre semplice, spontaneo, vero.
Ogni dettaglio è curato nei minimi particolari, dal vestiario all'arredamento, dalla scenografia al trucco. La recitazione, poi, è impeccabile. Oltre a Pemberton e Shearsmith, che recitano da protagonisti o da comprimari in tutti gli episodi, la serie vanta la presenza di guest star come Anne Chancellor, Gemma Arterton, Sophie Tomphson, Helen McCrory, Sheridan Smith, Tom Riley, Sophie McShera e tantissimi altri.
Non vi basta? Bene, sappiate che sono stati finora girate solo due stagioni di "Inside n°9", da sei episodi l'una. In un paio di pomeriggi dovreste cavarvela. E dopo, non ne potrete più fare a meno.
Olimpia Petruzzella