Gli inglesi sono ormai famosi per viziarci con Serie Tv belle, ma belle davvero, e del Valhalla delle serie cadute precocemente fa – faceva – parte In the Flesh.
Già solo le sue premesse sono alquanto singolari, sebbene ad un primo sguardo sembri il solito drama su un'apocalissi zombie alla The Walking Dead. Certo, In the Flesh parla di zombie, ma come ne parla!
Nella cittadina fittizia di Roarton, nel Lancashire, i morti ritornano in vita e tra loro c'è il protagonista della serie, Kieren Walker, un adolescente suicida.
La peculiarità della trama non sta tanto nell'attacco zombie, quanto nel fatto che esso sia stato arginato da una cura che rianima i non-morti, i quali dopo un periodo di riabilitazione vengono dichiarati idonei e reinseriti nella società, ma al contempo portano lo stigma della PDS, sindrome da decesso parziale.
Insomma, è chiaro che l'espediente degli zombie sia un modo originale per portare sullo schermo dinamiche sociali decisamente comuni. I rotters (carcasse) sono in tutto e per tutto stranieri, collocati ai margini della comunità e diffidati da chiunque, sempre ben identificabili come affetti da PDS. Nella realtà che ci mostra la serie, quella di Roarton, gli abitanti sono ben guardinghi dal fidarsi di coloro che hanno – pur incoscientemente – attentato alla loro vita, e la loro reazione all'insicurezza è la creazione della Human Volunteer Force, una squadra di eliminazione dei risorti che al loro ritorno continua a pattugliare la cittadina, alimentando i sentimenti estremisti.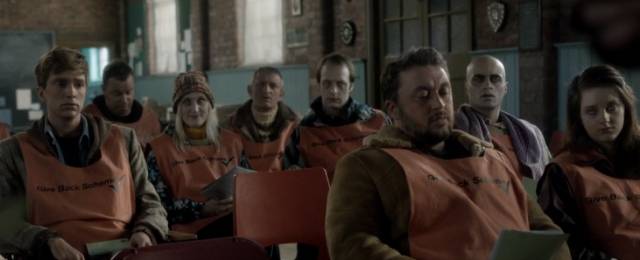 D'altro canto, la risposta all'emarginazione è l'Esercito di Liberazione Non-Morta, capitanata dal Profeta Non-Morto, di cui fanno parte Amy e Simon, mandato a Roarton per uccidere il primo risorto e permettere il Secondo Risveglio.
Se la prima stagione di In the Flesh è prevalentemente incentrata sul ritorno di Kieren ed il confronto col suo passato, ma soprattutto con il fatto che sia morto suicida, la seconda è un climax verso il fantomatico Secondo Risveglio, voluto dall'Esercito di Liberazione Non-Morta e combattuto dal partito Victus. Il sesto ed ultimo episodio si conclude in un momento cruciale, con un cliffhanger che però è destinato a rimanere tale, poiché nel gennaio 2015 è stata confermata la cancellazione di In the Flesh, con la premessa della BBC di voler investire su nuove Serie Tv.
Un anno dopo il mancato rinnovo il creatore Dominic Mitchell durante un'intervista si è pronunciato su un possibile ritorno della serie, che ha ancora qualche speranza, ma ovviamente l'organizzazione è più difficile di quanto si pensi. Ed in fondo sappiamo che queste parole sono la prassi, che non assicurano né danno ulteriori speranze.
Oltre al dispiacere della dipartita di uno show davvero promettente, con una qualità di scrittura e regia molto alta, si aggiunge la frustrazione di una storia troncata proprio sul più bello, quando la trama stava esprimendo tutto il suo potenziale.
Dato tutto ciò che è rimasto in sospeso con la sua cancellazione, non possiamo che domandarci cosa sarebbe successo dopo l'ultimo, fatidico episodio. Le speculazioni sul suo proseguimento naturalmente si sprecano.
12/12 h12:00
Il Profeta Non-morto ha lanciato l'ultimatum: alle ore dodici del dodicesimo giorno del dodicesimo mese ci sarebbe stato il Secondo Risveglio in quel di Roarton, dove si trova il primo risorto.
Il compito di Simon è quello di ucciderlo per far avvenire il risveglio, ma ha erroneamente identificato Kieren come il primo ad essere risorto, e fino all'ultimo vacilla tra l'adempimento del suo dovere ed il suo coinvolgimento emotivo con Kieren.
Al contempo però Maxine Martin, sotto le spoglie di funzionaria pubblica, individua la vera prima risorta, Amy Dyer, che intanto è ritornata in vita, e la uccide a mezzogiorno perché vuole il risveglio del suo fratellino defunto.
Nessun morto ritorna a camminare, e Amy muore – di nuovo. L'episodio si conclude con i due impiegati dell'azienda farmaceutica Halperin and Weston che scavano per trafugare la tomba ancora fresca di Amy di sera, ed uno chiede all'altra se siano ancora in tempo. Presumibilmente la scena si svolge prima della mezzanotte; ciò lascerebbe intendere che il risveglio potrebbe avvenire a quell'ora, piuttosto che a mezzogiorno.
Ma il Secondo Risveglio sarebbe avvenuto davvero?
Non c'è certezza sull'identità del Profeta Non-Morto, che potrebbe in realtà far parte di un esperimento condotto dagli scienziati che hanno curato i risorti in stato famelico per testare la capacità di manipolazione mentale sugli affetti da PDS.
Sarebbe allora chiaro il coinvolgimento dei due inviati della Halperin and Weston, che avrebbero dato deliberatamente il farmaco sbagliato ad Amy durante la sua permanenza nella comunità dell'Esercito di Liberazione. Con la cura errata sarebbe potuto iniziare il processo di ritorno alla vita di Amy, identificata come prima risorta.
Tuttavia abbiamo anche un indizio fondamentale: Amy non è morta definitivamente, e lo dimostra la tigre pupazzo che Philip appoggia sulla sua tomba e che cade, scossa da un movimento sotterraneo.
Se Amy è tornata a tutti gli effetti umana, ma dopo la sua morte ritorna comunque in vita, cosa significa?
Il risveglio dei morti potrebbe rivelarsi non casuale, ma voluto e guidato da un esperimento scientifico. L'interesse della Halperin and Weston sullo studio di Amy potrebbe rivelare qualche interesse alla creazione di un essere umano superiore perfino alla morte.
Simon Monroe
Il primo guarito, il primo discepolo del Profeta Non-Morto incaricato di trovare il primo risorto ed infine ucciderlo.
Nel suo viaggio però trova qualcosa – qualcuno – di inaspettato: Kieren Walker, che per coincidenza è anche colui che si ritrova a dover uccidere. Combattuto tra l'amore ed il dovere, alla fine gli salva la vita, e decide di abbandonare l'idea di rimettersi in viaggio per rimanere a Roarton insieme a lui.
Questa sua decisione però apre le porte a conseguenze spiacevoli: essendo a capo dell'Esercito di Liberazione, l'aspettativa dei suoi seguaci era che lui uccidesse il primo risorto per permettere il Secondo Risveglio e quindi la rivalsa sui vivi per la condizione da emarginati a cui sono relegati.
Non adempiendo al suo dovere Simon si aggiudica inevitabilmente lo stigma di traditore, un intralcio alla prospettiva di stabilirsi a Roarton con Kieren e lasciarsi l'Esercito di Liberazione alle spalle.
Il suo futuro non si prospetta poi molto tranquillo, e non potrà fare a meno di affrontare le conseguenze della sua negligenza. Ciò può significare che debba allontanarsi da Kieren o fuggire con il suo aiuto, sempre che nel mentre il Secondo Risveglio non avvenga veramente.
Roarton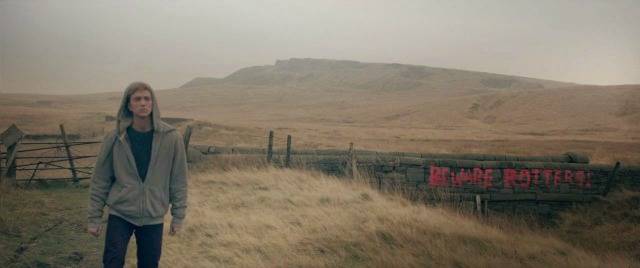 Nelle due stagioni di In the Flesh Roarton è stato un villaggio diviso tra vivi e non-morti, tra l'odio che covavano frange di entrambe le fazioni e la generale diffidenza. Solo nell'ultimo episodio, quando Gary fa assumere con la forza il Blue Oblivion a Kieren e questi riesce a sconfiggere il suo istinto famelico, sembra che i cittadini inizino ad acquistare fiducia negli affetti da PDS.
A meno che non avvenga il Secondo Risveglio, che farebbe ripiombare il villaggio nel caos, sembra l'inizio di un processo di inclusione, la fine del programma "Give Back", un termine che camuffa i lavori forzati, e la riammissione in tutti i luoghi, dal più semplice: il pub.
Chissà che Kieren ed i suoi simili non conquistino la fiducia e persino un posto nel consiglio come normali cittadini, e se incombesse una minaccia dell'Esercito di Liberazione, si sa, l'unione fa la forza.
Spinosa è invece la questione di Jem, la sorella di Kieren, che faceva parte della Human Volunteer Force e per errore ha ucciso il giovane Henry Lonsdale scambiandolo per un famelico.
Nell'ultima puntata lo svela a Kieren e gli chiede aiuto per superare l'accaduto che la tormenta. Sappiamo che Kieren è un giusto e segue le sue leggi morali, sicché sarebbe difficile pensare che insabbierebbe la questione, ma accompagnerebbe Jem nell'affrontarla.
Da eroina di Roarton verrebbe completamente discreditata e allontanata?
In tal caso riusciamo ad immaginare che, riconquistato il rapporto che aveva con Kieren prima della sua morte, unisca le sue forze col fratello e Simon per fare giustizia ad Amy, qualsiasi sia la forza che mette a repentaglio la loro vita.
In the Flesh ci ha lasciato con troppe domande e poche risposte, ingiustamente, con una trama avvincente che era solo in fase di decollo, ma che funzionava tra il pubblico. Se mai la BBC volesse re-investire in questo piccolo gioiello, noi saremmo ben lieti di appurare tutte le teorie che ci saltano in testa.