# #
Come se la caverebbe, la tosta giornalista Robin Scherbatsky, se venisse sradicata dal suo universo borghese di New York, cornice delle sue avventure in How I Met Your Mother, e si risvegliasse in quello apocalittico, sanguinario, folle di The Walking Dead? Saprebbe sopravvivere? A quale stagione arriverebbe? Saprebbe raccogliere intorno a sé un gruppo di sopravvissuti e dare inizio a una nuova colonia? Quanti zombie ucciderebbe?
# #
Noi crediamo fermamente che Robin sia in grado di fare tutte queste cose alla grande, e molto di più.
Robin è una ragazza che conosce le regole della sopravvivenza: è pur sempre cresciuta in Canada, con un padre degenere che l'ha allevata come se fosse un giovane Marine, abbandonandola per giorni nel bel mezzo delle foreste canadesi per il suo compleanno. Sa cavarsela. Sicuramente si farebbe meno scrupoli di tutti noi a scuoiare uno scoiattolo per prepararsi la cena.
# #
E i suoi cinque cani le sarebbero d'aiuto, proteggendola e dandole una mano nella caccia. Sarebbe tosta ai livelli di Michonne quando girava con gli zombie da passeggio, vi ricordate? Inquietante e fiera, donna di poche parole, così si trasformerebbe la nostra Robin, risvegliandosi in un incubo apocalittico condito di zombie e cattivi di tutti i generi.
Ma di sicuro, non le piacerebbe. Le mancherebbero le serate mondane, i giri infiniti di birra al McLaren's, i vestiti da sera e i conseguenti sguardi ammiccanti di Barney, persino i suoi flirt di poca importanza con ragazzi poco più evoluti di un cane da riporto. La immaginiamo tornare a casa, dopo una lunga giornata di caccia agli zombie, riporre la sua fedele pistola, dopo averla accuratamente pulita, nel cassetto, sospirare, entrare in doccia e piangere rannicchiata in un angolo come nei più classici cliché da film.
Perché la Sherbatsky è come noi, una donna tosta e imbattibile ma in fondo fragile e dolce come non saremmo mai disposte ad ammettere. Una donna che ama la sua indipendenza ma che nel profondo spera di dividere la sua vita con qualcuno.
Robin saprebbe sicuramente imporsi su uno sparuto gruppo di sopravvissuti: immaginiamo che l'abbiano raggiunta nel suo incubo anche tutti gli altri protagonisti di HIMYM, su chi pensate che farebbero affidamento? Noi puntiamo sulla ragazza con la pistola, anzi con le tante pistole, sotto il cuscino.
Robin in pochissimo tempo diventerebbe una leader da far invidia al Governatore dei vecchi tempi, e potendo contare su una discreta dose di pazzia che, se rilasciata in un ambiente tossico come quello di TWD, saprebbe far prosperare, potrebbe tranquillamente aspirare al rango di Negan femminile della storia. Ma noi crediamo che Robin userebbe la sua influenza per tenere l'ordine, senza arrivare alle manifestazioni muscolari di Negan o ai deliri di onnipotenza del Governatore. E sicuramente chiederebbe ai villaggi assoggettati di rifornire Scherbatskyland solo con la loro birra e i loro sigari.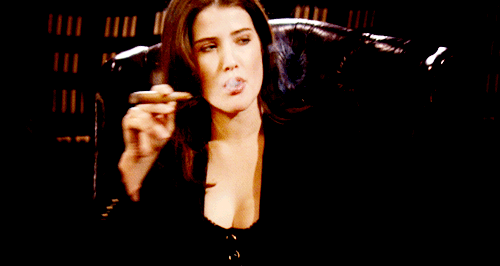 Sicuramente l'annuncio della fine del mondo, dato da Robin in diretta dagli studi di "Come on, get up New York!" sarebbe esilarante. Inframezzato da innumerevoli "BUT UHM", e magari con qualche frase sconcia nel mezzo che ci fa capire come, anche durante la fine del mondo, le scommesse vanno rispettate, la diretta di Robin Scherbatsky ci strapperebbe una risata, prima che uno zombie ci strappi un braccio.
Robin è un personaggio estremamente sfaccettato, e questa versatilità le sarebbe estremamente utile anche nella sua ipotetica vita in mezzo agli zombie. La sua libertà sessuale le darebbe modo di ottenere quello che vuole quando la forza fisica non è sufficiente, e la sua intelligenza e ironia la renderebbero una leader amata e rispettata, completamente agli antipodi di Rick in quanto a tipo di carisma.
Ce la immaginiamo con una bella benda sull'occhio, a un certo punto, o comunque qualche cicatrice che la renda sexy e inquietante insieme, e la vediamo andare all'assalto dei non morti brandendo una mazza da hockey, in onore alle sue origini. Perché persino una fanatica delle armi come Robin sarebbe in grado di realizzare che le pistole non possono durare per sempre, e punterebbe su qualcosa che non richieda un continuo rifornimento, e soprattutto che faccia sì che la battaglia dell'uomo contro gli zombie porti il segno del suo paese.
Vederla piantare la bandiera canadese sul suo primo zombie, cantando "let's go to the mall, and kill" varrebbe un intero spin-off.