Hemlock Grove è una delle prime Serie Tv nate da Netflix quando in Italia ancora non si conosceva il termine "piattaforma streaming". Nel 2013 esce la prima stagione di questo crime-horror molto sui generis tratto dal romanzo di Brian McGreevy, il quale figura tra i creatori della serie. Ad affiancarlo nel team creativo troviamo nientepopodimeno che il re del torture porn: Eli Roth.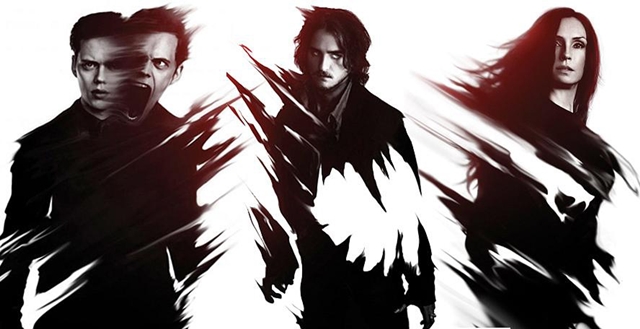 La trama si sviluppa intorno alle vicende che accadono nella fittizia Hemlock Grove, in Pennsylvania, dove una ragazza viene brutalmente uccisa da qualcosa (più che da qualcuno) dalle fattezze animalesche. Sin da subito i principali sospettati dell'omicidio sono due personalità che spiccano tra la folla di liceali: Roman (Bill Skarsgård), vanitoso diciassettenne erede di un'importante quanto misteriosa azienda biotecnologica, e Peter (Landon Liboiron), giovane zingaro arrivato da poco in città.
Entrambi presentano degli aloni sovrannaturali, oltre che una famiglia alquanto bizzarra alle spalle (come la sorella-gigante di Roman). Hanno figure materne forti e influenti, ma in modi differenti. Tutti e due devono quindi affrontare la propria natura in divenire. Quella di Roman è accompagnata dalla sua famiglia un po' alla Addams: terrificante e opprimente, dove la matriarca Olivia (Famke Janssen) tesse diaboliche trame. Mentre la vita di Peter è molto più sciatta, gypsy e con una madre più affettuosa e meno dark.
Una contrapposizione su cui regge tutta la prima stagione e che crea il velo di mistero su qualcosa di interessante. Quello che entrambi si portano dietro: un passato oscuro e ricco di segreti, i cui pezzi vengono seminati nei dialoghi senza mai rivelare tutto. Una Serie Tv che cavalcò l'onda dello stile pseudo-horror (e gotico) alla True Blood, Da Vinci's Demons e American Horror Story. Una cittadina sulla scia di Twin Peaks, con eventi grotteschi, sovrannaturali e personaggi sul filo del mistero che intrigano e appassionano.
Ma allora cosa ci ha portato a definirlo come un "curioso caso"?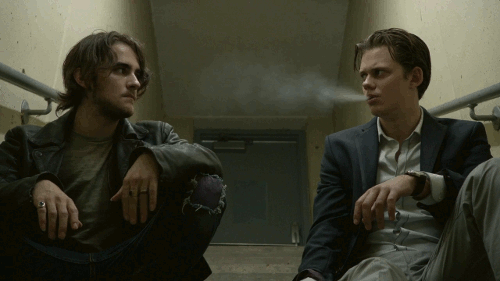 Prima fra tutte la sua distribuzione. Essendo un prodotto originale Netflix, perché non è presente sul suo catalogo italiano?
È da tempo che cercavo una risposta, soprattutto perché ogni mese aspettavo la sua comparsa sulla piattaforma. La lampadina mi si è illuminata quando ho fatto 2+2. Hemlock Grove fu trasmessa in Italia sul canale a pagamento Mya di Premium e successivamente su La5. Che la Mediaset possegga ancora i diritti e non la molli per chissà quale ragione? Illeggibile come cosa dato che trasmisero soltanto la prima stagione. Il secondo motivo è legato allo sviluppo della trama della serie. Se la prima sfilza di episodi è stata accattivante al punto da farne desiderare degli altri, cosa è successo poi?
La seconda stagione non ha prodotto tanti ascolti. Ragion per cui la successiva fu l'ultima.
Ma questo non avrebbe dovuto far demotivare gli sceneggiatori, i quali hanno portato la serie a parlare essenzialmente di trame inutili, scialbe e con una conclusione che ha lasciato gli spettatori praticamente indifferenti. Uno show nato nel periodo della prima covata di Netflix (nello stesso anno uscirono House of Cards e Orange Is the New Black) che doveva essere il fiore all'occhiello del genere dark. Peccato che invece si è trasformato in una banale serie che sarà facile da dimenticare.
Una prima stagione partita con il botto che faceva ben sperare e ricordava molto gli esordi di True Blood. Poi il seguito che non ha saputo reggere il confronto e infine un decadente terzo capitolo.
Hemlock Grove poteva avere un destino ben diverso. Poteva riuscire a creare un universo urban fantasy (ormai troppo sviscerato in decine di show) originale, accattivante e duraturo.
Hemlock Grove è finita nel dimenticatoio. Vittima di una mentalità lasciva causata dal primo calo di ascolti.