# #
Before we begin, you must all be warned. Nothing here is vegetarian. Bon appetit.
# #
Fannibals a rapporto! Qualche giorno fa, in questo articolo, vi abbiamo dato la conferma degli sviluppi della quarta stagione di Hannibal, Serie Tv conclusasi nel 2015. La buona notizia è partita dall'account Twitter di Bryan Fuller, il genio che si nasconde dietro questo capolavoro. Ora, sappiamo che le discussioni relative al revival di Hannibal sono iniziate. Se una sola conferma non basta, oggi Hall of Series ve ne porta una seconda.
L'account Twitter della De Laurentiis Company, che si è occupata della produzione di Hannibal, ha modificato la descrizione del proprio profilo. Ai fan è subito saltata all'occhio, perchè la modifica non è da poco: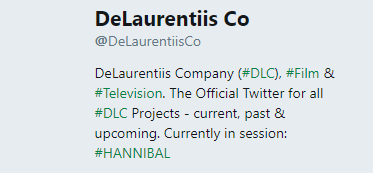 # #
Currently in session: #HANNIBAL
Insomma, dopo le varie conferme ricevute da Bryan Fuller e da Mads Mikkelsen, anche la casa di produzione De Laurentiis ha fatto sentire (indirettamente) la propria voce. Abbiamo la certezza di una quarta stagione di Hannibal in fase di sviluppo! Tuttavia il progetto richiederà tempo. Dopo essersi assicurati l'acquisizione dei diritti de Il silenzio degli innocenti (attualmente in possesso della Metro Goldwyn Mayer), sarà necessario trovare una piattaforma disponibile a trasmettere la nuova stagione. Poi verranno la sceneggiatura, le riprese, la première.
Siamo da tempo rimasti in attesa di buone notizie relative alla tanto desiderata quarta stagione di Hannibal. Una stagione che nascerà dal romanzo Il silenzio degli innocenti di Thomas Harris, da cui nel 1991 è stato tratto l'omonimo film. Due opere, lo scritto e la realizzazione sul grande schermo, accolte con critiche favoreli e tuttora apprezzate dal pubblico. L'adattamento televisivo del romanzo andrebbe ad affiancare questi due pilastri letterari e cinematografici. Sarebbe interessante vedere il modo in cui Bryan Fuller riuscirà a re-inventare la storia del romanzo, così come ha fatto per le prime tre stagioni di Hannibal, che si basano principalmente su Il delitto della terza luna (Red Dragon).
Noi Fannibals siamo pronti da tempo e la nostra pazienza si sta esaurendo. Le prime tre stagioni di Hannibal ci hanno mostrato diversi modi in cui (ehm ehm) EAT THE RUDE, ma abbiamo bisogno di qulcosa di nuovo, e siamo sicuri che Bryan Fuller sarà in grado di accontentarci!