# #
SPOILER ALERT! NON LEGGETE OLTRE SE NON AVETE VISTO (O NON VOLETE SAPERE NIENTE DElL'EPISODIO 13X10, "YOU CAN LOOK (BUT YOU'D BETTER NOT TOUCH)" DI GREY'S ANATOMY
Il mid season finale della 13sima stagione di Grey's Anatomy (ne abbiamo scritto qui) ci aveva lasciati ansiosi di scoprire il destino di Karev – accetterà o meno il patto proposto, visto che il suo processo non sta andando molto bene? – e quello di Weber, che deve affrontare le conseguenze delle decisioni di Miranda sulla sua poca durezza di insegnante, apparentemente sostituibile in meglio da una tizia che in due puntate è arrivata e ha sconvolto un po' tutto.
# #
Maggie, figliola prodiga, venuta a conoscenza delle difficoltà in cui è Richard, si è appellata al proprietario di maggioranza dell'ospedale, Avery, che ha riunito tutti coloro che non sono d'accordo.
Ma ora basta "Previously"!
# #
Andiamo a discutere degli eventi di questa nuova puntata di Grey's Anatomy!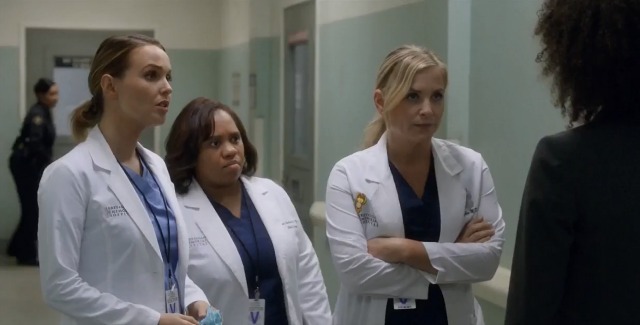 Le Dottoresse Robbins, Bailey e Wilson devono visitare una paziente, una sedicenne incinta in un carcere di massima sicurezza, la notte prima del processo di Karev.
Durante i primi dieci minuti di puntata di Grey's Anatomy, le seguiamo nella procedura d'accesso nella prigione, Robbins sempre piuttosto tranquilla e con la cognizione del fatto che è semplicemente un'altra paziente; Bailey man a mano più agitata, evidentemente inconsapevole delle regole del carcere e del tipo di persone che contiene e la Wilson invece che giustifica, contestualizza l'idea che i crimini vengano dalle condizioni a cui una persona è esposta (e aggiungo, un po' tardi dopo come ha trattato Karev, e per il fatto che sente di esserci passata sulla sua pelle in situazioni del genere).
Bailey invece ha una visione più critica, tanto che le risponde "stuff doesn't happens to you, you happens to stuff".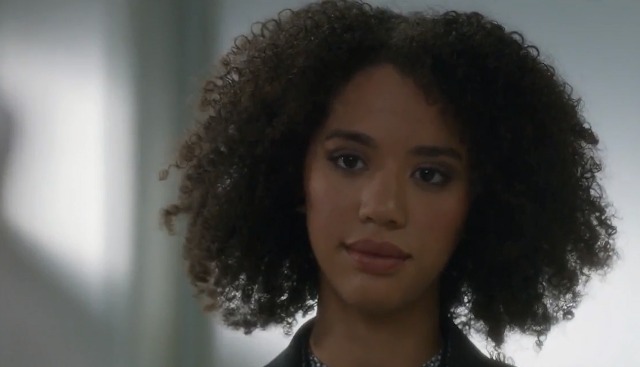 Accompagnate da questa determinata avvocatessa dal carattere molto forte, raggiungono la detenuta, che pressoché subito attacca la dottoressa della prigione rompendole un dito. Questa la fa legare al letto e se ne va, rimettendosi in sede, da sola, la falange.
La dottoressa è molto dura con lei e le altre detenute e questo sorprende le tre protagoniste, mettendole di fronte ad un mondo completamente diverso da quello a cui sono abituate, sopratutto Miranda che è spesso a disagio e non riesce a comprendere questa realtà.
A quanto pare la ragazza ha una condizione che va operata in chirurgia fetale, e per questo è stata convocata la Dottoressa Robbins, ma alla detenuta era stato fatto credere che avrebbe avuto la figlia nello stesso giorno dell'operazione, e a sapere la notizia che non è così si agita e arrabbia molto, cosa che fa di certo effetto vedendo quando non può muoversi essendo ammanettata mani e piedi.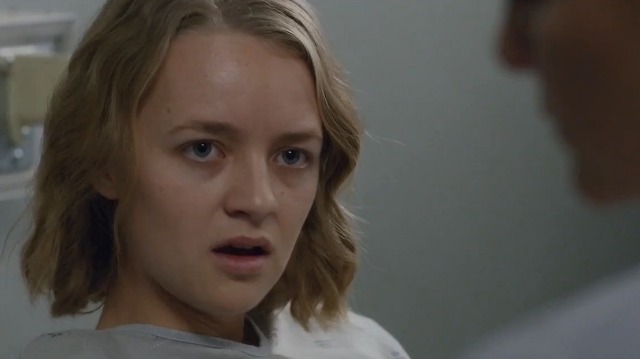 Nel momento in cui l'avvocatessa, che ha evidentemente un rapporto migliore con la cliente rispetto al medico, riesce a calmarla, e questa di rimando racconta una storia di una film che tratta di una carcerata a cui è concesso di tenere il figlio in prigione, la detenuta nota un'aria di sufficienza in Miranda, e finiscono per litigare.
Miranda quindi si fa un bel giro per il reparto, scoprendo quanto la vita per i medici di prigione e le detenute sia difficile, e le motivazioni per le quali questi non ricevono cure appropriate: semplicemente lo stato non dà abbastanza fondi per comprare le scorte di medicine, nutrimenti, assorbenti necessarie per mantenere una prigione intera, perché la verità è che queste persone vengono considerate meno degne, meno umane.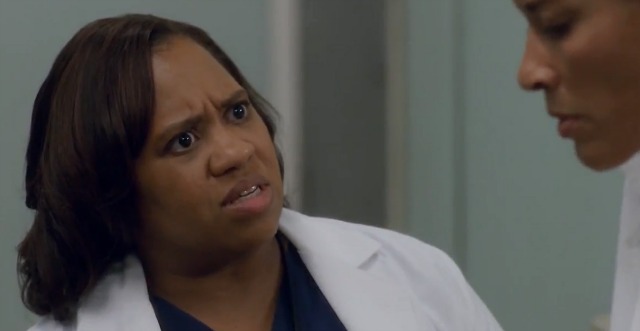 Nel frattempo arriva la madre della ragazza incinta, ma non si fa vedere dalla figlia, è lì solo per prelevare la bambina che adotta, per poi non farglielo rivedere più.
A questo punto le tre dottoresse si riuniscono e discutono se dirglielo o meno a Cristine. Ma chiaramente non possono influenzare un cambiamento in un posto che non è loro, di cui non conoscono le norme.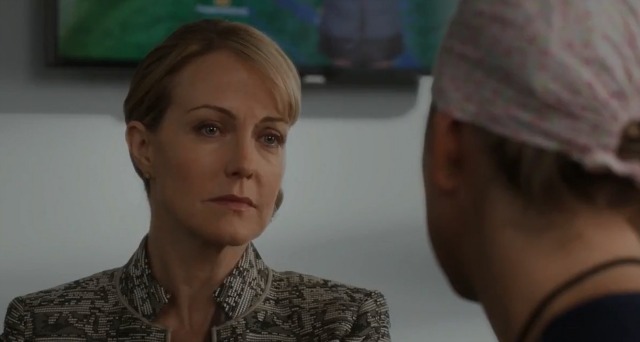 Durante l'operazione con la sonda, Cristine è sveglia e racconta come odiava sua madre per il fatto che la tenesse all'oscuro di tutto. Perciò alla strana reazione di Arizona a quest'affermazione si agita e sembra mettere a rischio l'operazione. Nel controllare a seguito le sue condizioni però, si accorgono che le si sono rotte le acque.
In una scena commuovente in cui la ragazza finalmente partorisce una bellissima bambina sana, Miranda la tiene per mano, redimendosi dei suoi pregiudizi su come i criminali siano lì perché se la sono cercata, accettandola come essere umano e poi dicendole quanto sia orgogliosa di lei, sostituendo, per un momento, la madre che non ha voluto venire.
Anche Jo è riuscita a legare con Cristine nel corso della puntata, tanto che riesce anche a scoprire che non ha avuto la condizione di vita terribile che si pensava, ma nessuno vuol sapere come è finita lì, non è importante in quel momento.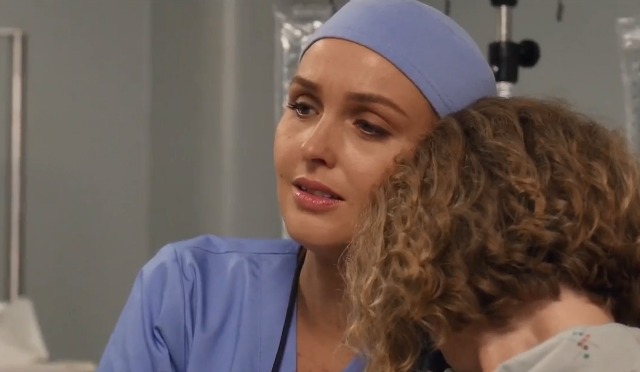 Arizona, una volta compiuto il suo dovere ed informato la madre della ragazza dell'arrivo di Ellie – a cui questa subito ha cambiato il nome rinnegando il volere della figlia fino in fondo – esce dal suo contegno professionale e le fa notare come ha abbandonato Cristine.
Cristine probabilmente non vedrà più sua figlia, avendo vent'anni da passare in carcere, o se la vedrà si sarà persa sin troppe fasi della sua vita.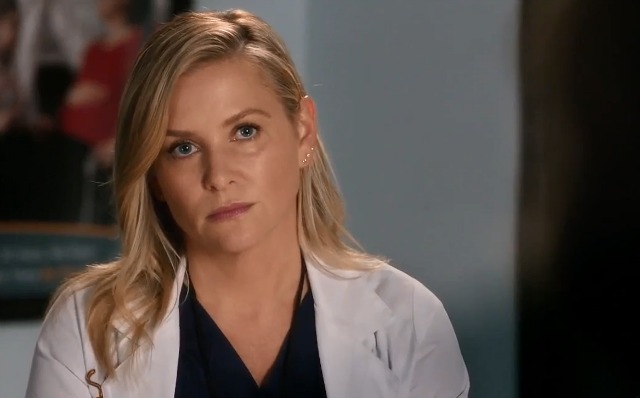 Miranda, nel viaggio di ritorno, ammette di aver torto, ammette che "stuff can happen to people", le appoggia una mano sul ginocchio e tenta di spiegarle cos'ha fatto Karev, tenta di spiegarle che ha accettato – già accettato – il patto del procuratore di andare in prigione, senza il resto del processo, ma scontando meno anni. Ora Jo non vuole sentire, vomita e si arrabbia e la puntata ci lascia qui, ancora con il dubbio se Alex abbia o meno accettato, se è possibile che arrivi una qualche sorta di miracolo a graziarlo.
Di certo questo ritorno di Grey's Anatomy non è stato per nulla un'infusione di speranza.
Ci ha voluto dire quanto i carcerati possano essere imprigionati per una serie di sfortunati eventi e condizioni che portano qualcuno più o meno propenso ad agire in maniera disperata, e aggressiva.
Ci ha voluto tenere ancora sul filo del rasoio, nonostante sia un paio di mesi che aspettiamo.
Ci ha fatto un po' arrabbiare proprio per questo, ma sopratutto Grey's Anatomy ci ha fatto soffrire per quaranta minuti nella speranza che ci dica qualcosa di più sulla trama principale, lasciandoci però a bocca asciutta. 
Magari la settimana prossima andrà meglio…