Signori e signore Grey's Anatomy è tornato, così come le recensioni deliranti, e no, mi dispiace, neanche questa volta ho buone notizie!
Ma andiamo con ordine …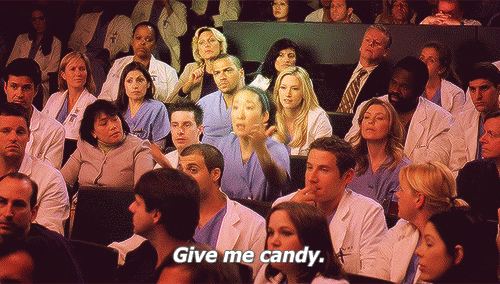 L'episodio, questa volta, non parte esattamente da dove lo avevamo lasciato prima della pausa, e infatti, di Alex, Meredith e il bel De Luca nessuna traccia (così come del resto del team del Grey Sloan Memorial Hospital). La puntata vede come protagoniste solo tre dottoresse dell'ospedale di Seattle, ovvero: Miranda, Jo e Arizona.
Inizialmente non è tanto chiaro quello che sta succedendo. Sono su una macchina, dirette non si sa dove e continuano a parlare in codice, tanto che pare l'intro di uno di quei film horror da quattro soldi dove quasi sempre i protagonisti continuano a cacciarsi nei guai solo perchè – semplicemente – stupidi. Insomma, qualcosa di strano sta per accadere in questa puntata di Grey's Anatomy, e questo (almeno) è ben chiaro a tutti. Un'altra cosa che è chiara fin da subito è l'identità della paziente: una ragazzina di 16 anni in stato di gravidanza. 
Il luogo in cui arrivano Miranda, Jo e Arizona sembra una location uscito direttamente da uno dei set di Lost, tanto che non mi sarei stupita se, ad attenderle all'uscita dall'ascensore, ci fosse stato Mister Eko di Lost uscito direttamente dal progetto Dharma per l'occasione.
"Pericolo"
"Massima sicurezza"
"Non toccare"
Questi solo alcuni dei cartelli posizionati all'entrata, tanto che io ad un certo punto mi sono chiesta: ma questi dottori non sono già stanchi di morire? Ma perché continuano ad essere così ostinati?
Superata l'incertezza iniziale, capiamo finalmente dove sarà ambientato questo episodio di Grey's Anatomy, ovvero all'interno di una prigione di massima sicurezza! Ma sì, che vuoi che sia!?Una passeggiata di salute in confronto a quello che abbiamo visto in passato! Non è vero? Ma niente paura, Shonda riesce a recuperare in pieno e, anche questa volta ci regala la nostra dose di ansia settimanale e, infatti, dopo averci mostrato il volto della ragazza incinta, tanto carina e dolce, ci regala una scena di lotta libera senza esclusioni di colpi!
Non facciamo in tempo a dire e/o pensare "oh povera ragazza!" che boom! Questa stacca un dito alla dottoressa del carcere come se nulla fosse!
Insieme alle dottoresse, all'interno della struttura, arriva l'avvocato che rappresenta la ragazza – l'Annalise Keating di How To Get Away With Murder trasferita qui, in pratica – che, senza neppure tanta fatica, riesce a sedare la situazione e a far tornare l'ordine (per così dire).
In questa puntata di Grey's Anatomy, a mio parere, impossibile non essere totally Miranda paranoica. La ragazzina era così creepy che quando l'avvocatessa è stata costretta ad andare via per un'urgenza ho quasi avuto paura anche io, e personalmente avrei preso a sberle Arizona e la Wilson che, al contrario, sembravano non riconoscere il pericolo!
Ma come si fa?! Però io forse sono di parte, perchè lo ammetto, prenderei a pesci in faccia la Wilson ogni volta che apre bocca!
Infatti il genio – che più genio non si può – si conferma anche in questa puntata di Grey's Anatomy, perchè quando si viene a sapere che la madre della detenuta non ha alcuna intenzione di assisterla e che, quasi sicuramente, le toglierà anche la bambina per non fargliela vedere mai più, Jo Genio Wilson che cosa fa? Si ribella! Secondo lei sarebbe giusto dire ad una tizia pericolosa che prende a morsi la gente che "ehy, indovina?! Tua madre non vuole farti più vedere la bambina e ha intenzione di farti marcire in carcere" … Complimenti!
Ha aggredito una tizia perché le ha negato una barretta ai cereali, indovina come prenderà questa notizia Wilson? Oh ma tu e la tua mono espressione che ne sapete!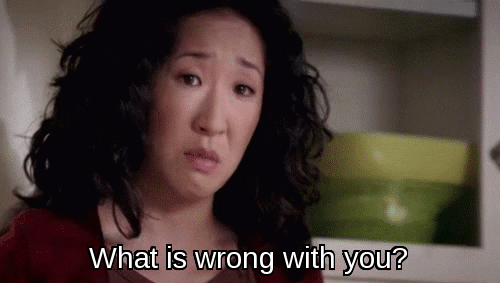 Le bugie, tuttavia, questa volta hanno le gambe corte e, mentre noi spettatori non siamo ancora capaci, dopo anni, di riuscire a distinguere le espressioni (tutte uguali) di Jo, la ragazza che distrugge le ossa alla gente pare essere l'unica al mondo capace di saperlo fare, e capisce subito che le dottoresse le stanno nascondendo qualcosa.
Le cose, tuttavia, tornano alla normalità prima della fine e Grey's Anatomy torna a regalarci certezze e, difatti, alla fine ci fa piangere!
No, non c'è pace per noi fan!
Dopo che le dottoresse sono uscite dalla prigione, veniamo a conoscenza di un'altra cosa, che è un po' quello che tutti volevamo sapere, e cioè: che fine farà Alex?
Niente di buono all'orizzonte …
Il dottore probabilmente andrà in prigione, e dico "probabilmente" perché ormai da Shonda io personalmente mi aspetto tutto, e chissà quale altro trucco magico si inventerà questa volta. Sono pronta a scommetterci!