C'è ancora tempo per i prossimi Emmy, eppure alcune serie sembrano già aver messo una seria ipoteca su alcune categorie. La moria di serie comedy spalanca la strada a due recentissimi successi e a una consolidatissima dramedy. Nella categoria drammatica, invece, sarà battaglia senza esclusione di colpi. Game of Thrones alla sua ultima stagione promette strage di premi ma occhio ad alcune eccellenze che meriterebbero (finalmente) il meritato riconoscimento.
Tra grandissime rese registiche, interpretazioni da Oscar e attori alla ribalta, agli avversari rischia di non restare davvero nulla. E attenzione, perché in caso di incetta di premi per l'acclamatissima Game of Thrones sarà record assoluto di vittorie totale. Il Saturday Night Live, attuale detentore del maggior numero di premi, è avvisato!
1) The Marvelous Mrs. Maisel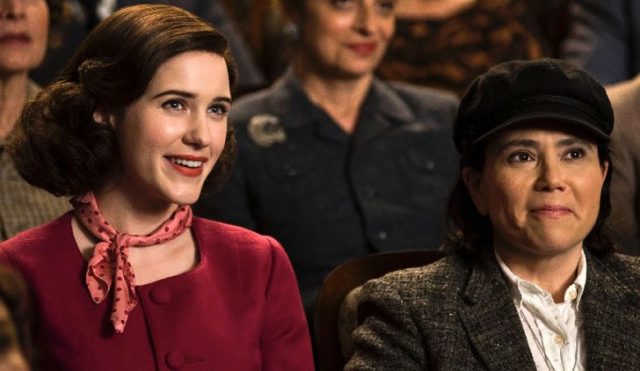 Dopo aver fatto incetta di Emmy lo scorso anno (cinque su sei nomination) ed essersi già aggiudicato un Golden Globe, The Marvelous Mrs. Maisel, è pronto per mettere in tasca nuovi premi nel 2019. Dopo una prima, sorprendente stagione ripetersi non era facile. Ma nella sua season 2 la serie ha confermato i buoni propositi e convinto i critici più esigenti.
In un panorama seriale in cui le comedy di qualità scarseggiano sempre di più e i vecchi show si avviano alla chiusura, The Marvelous Mrs. Maisel splende e si staglia sopra a tutto. Difficile immaginare un esito contrario ai prossimi Emmy. Anche se due serie sono pronte a qualche sgambetto nella categoria commedia. Kidding del sempreverde Jim Carrey e The Kominsky Method con un sorprendente Michael Douglas. Riusciranno a detronizzare la fantastica signora Maisel?
Per chi non si fosse ancora confrontato con The Marvelous Mrs. Maisel basti dire che la serie ha per protagonista Midge, una casalinga ebrea che si reinventa comica. Ritmo battente, personaggi dalla superba caratterizzazione, ironia raffinata e irresistibile per una comedy che, come spesso accade negli ultimi tempi, si macchia (fortunatamente) di drama.