Cose strane sono successe nella 7×04 di Game of Thrones andata in onda domenica scorsa. Per chi non avesse ancora visto la puntata vi invitiamo a guardarla. Sono successe parecchie cose, ma per non urtare la vostra sensibilità, vi avvertiamo che potrebbero esserci degli spoiler in questo articolo. Procedete con cautela, tutto quello che troverete in questo articolo contiene
Spoiler sulla 7×04 di Game of Thrones.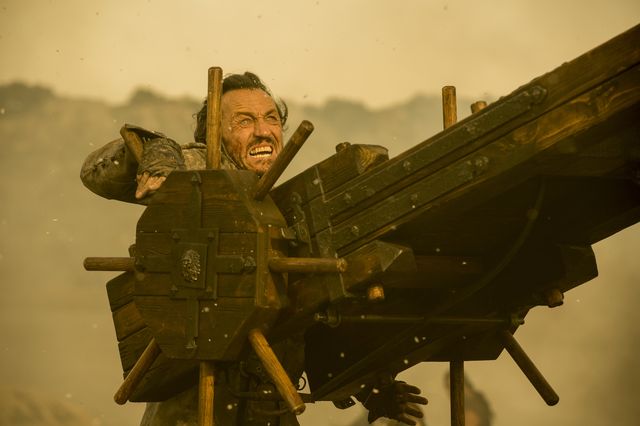 Accade di tutto quando sei un attore di Game of Thrones e ferisci uno i figli di Daenerys. E' quello che è successo a Jerome Flynn. Tante sono le cose che sono successe, tanti gli interrogativi che ci siamo posti alla fine della puntata. Quello che stiamo per raccontarci è, invece, quello che è accaduto a Jerome Flynn, interprete di Bronn. Tutti i fan di Game of Thrones dopo il quarto episodio hanno avuto l'irrefrenabile voglia di tirargli un pugno, dopo aver ferito Drogon, il drago di Daenerys.
In una intervista Jerome Flynn ha dichiarato che ci sono volute circa cinque settimane per girare la scena della battaglia. Ovviamente Jerome ha dovuto subire le reazioni dei fan, in particolare ha raccontato il divertente episodio con il suo postino.
"Sono rimasto sorpreso mentre lo guardavo. Ho lavorato settimane a quella sequenza, ma ero incollato alla mia sedia e l'adrenalina era a mille – l'hanno resa veramente favolosa. Anche se da quando è andata in onda, sono diventato un po' impopolare, devo dire. Il mio postino non mi parla più perché ho ferito il drago."
La settima (e penultima) stagione di Game of Thrones ha preso il via in America il 16 luglio. La quinta puntata andrà in onda il 13 agosto. Vi ricordiamo che mancano solo due puntate alla fine della settima stagione. Nel frattempo, non vediamo l'ora di scoprire cosa sarà accaduto a Jaime. Riuscirà a sopravvivere?